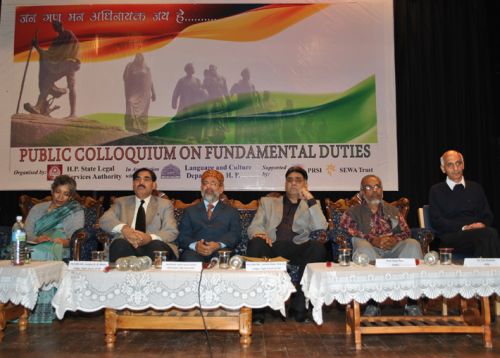 Chief Justice of Himachal Pradesh High Court Justice Kurian Joseph said that exercise the right to franchise was super most duty of all citizens so as to strengthen the vibrant democracy of a country and expressed concern that only half of the voters of the country cast their vote in elections. He was addressing the Public Colloquium on Fundamental Duties organized by the H.P. State Legal Services Authority and Department of Language, Art and Culture, Himachal Pradesh in association with SEWA Trust and Public Relations Society of India, Shimla Chapter here today. This was the fifth colloquium in the series organized by the organization.
Chief Justice said that Article 51 (A) (e) of the constitution was ensuring the spirit of brotherhood and harmony in the country.
He said the issue of corruption has to be addressed by all the authorities as judiciary or police alone can not combat this menace. People of the country needed to maintain eternal vigilance and media and NGO's should also play important role in curbing the corruption.
Justice Kurian Joseph emphasised for strong will to implement the laws for women and protection against exploitation of women.
Earlier, Justice R.B. Mishra, Judge of H.P. High Court and Executive Chairman of H.P. State Legal Service Authority welcoming emphasised on promoting harmony amongst different religions, castes and colouors and said that it was the duty of every citizen. He said that the State Legal Authority was providing free legal aid to weaker sections, poor, women and various other sections besides safeguarding their interests.
Justice Rajeev Sharma, H.P High Court delivered key note address on 'promoting harmony and the spirit of common brotherhood amongst all the people of India transcending religious, linguistic and regional or sectional diversities'. He said that every human being has right to live with dignity and we all must respect all the religions, castes and languages and renounces those practices which breaks the nation. Before expecting any change in the society, one must be ready to change himself first and contribute in making this country a great nation. He said that unless the gap of basic amenities and facilities along with dignity was not fulfilled, the society would lead to a phase of turmoil. Every Right has corresponding duty, he added.
Rajwant Sandhu, Chief Secretary, Himachal Pradesh, in her key note address on 'How to renounce practices derogatory to the dignity of Women', said that the State had taken various effective steps for women empowerment and provide them equal opportunities in development. Himachal Pradesh was one among the leading States to enact legislation to reserve 50 percent posts in Panchayats and Local Bodies for women and expressed happiness that 58 percent women were elected to these institutions in last Elections held to Panchayats Raj Institutions and Local Bodies.
Rajwant Sandhu said that Himachal had shown good signs in 2011 census in child sex ratio which has gone up from 968 to 974. Sex ratio at birth was also showing increasing trend since 2005 which now stands at 922 as per 2009 report. She emphasized that after birth girls get equal opportunities to grow and excel.
She said that though constitutional provisions provides equal rights and opportunities for women still men dominates our society where women were not getting fair amount of freedom. Inspite of all the protective provisions in the constitution, other legislations and proportion of benefits under various schemes being assigned for women, there were historical and cultural barriers that work against the principle of equality of the sexes and women continued to be weaker gender. The main reason behind this was traditional practices followed within families through religious and cultural taboos.
Chief Secretary said that laws can not enforce change and the change had to come through education and rejection of traditional practices which were against women.
A panel discussion was also held in which students from schools of the town and others participated.
A cultural programme based on Article 51 (A) (e) was also presented by the students.
In interaction organised on the occasion, Chief Justice and other panel members clarified that various issues on fundamental Duties.
Dr. Prem Sharma, Director, Art language and Culture, Shri B.D. Sharma, Chairman, Shimla Chapter of PRSI, Shri Vepa Rao, a veteran journalist, Smt. Meenakshi Chaudhary, Chairman, Sewa Trust, Judges and former Judges, Members of legal and education fraternity, senior officers of the State Government and members of voluntary organizations participated in the colloquium.