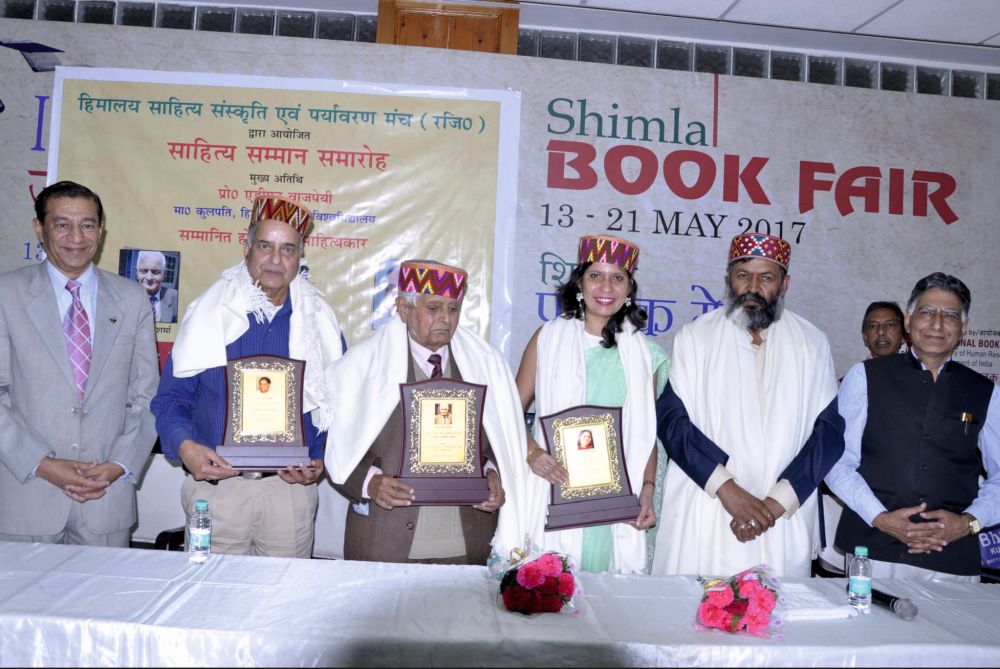 Shimla: Himalayan Sahtya Sanskriti Avam Paryavaran Munch honoured octogenarian writers Ramesh Chander Sharma (88 yrs.) and Dr. OC Handa (81 yrs.) with life time achievement award for Creative Literature, Art, Architecture, History and Culture respectively.
Vice-Chancellor, HP University Prof. ADN Bajpai presented the awards in a function organized at Shimla Gaiety Theatre.
Dr. Priyanka Vaidya awarded with Himalaya Yuva Srijan Samman for her achievement in the field of literature.
Prof. Bajpai applauded the efforts of the writers and wished them success. He said that genuine and committed writing should be based on self-experiences of the writers and not the intellectual exercises. He cited the examples from medieval and classical period e.g. Kaliddas, Kabir, and Tulsidasa etc. whose writings are based on eternal truth.
SR Harnot, Chairman of the Munch, said the Himalayan Sahtya Sanskriti Avam Paryavaran Munch had been organizing such function since, 2013 and hoped that the process would continue in future as well. Badri Singh Bhatia, Nem Chand Ajnabi and Dr. Dev Kanya Thakur narrated their achievements alongwith their biographical characteristics.
Ashwani Kumar Ex-Governor, Nagaland was the special guest of the function. Renowned writers Shriniwas Srikant, Shriniwas Joshi, Kul Rajive Pant, Sudarshan Vashisht, CRB Lalit, K R Bharati, V. K. Sharma, Vidyanidhi Chabra, Vinod Gupta, Ashok Gautam, Pramod Sharma and Atma Ranjan were present among others.