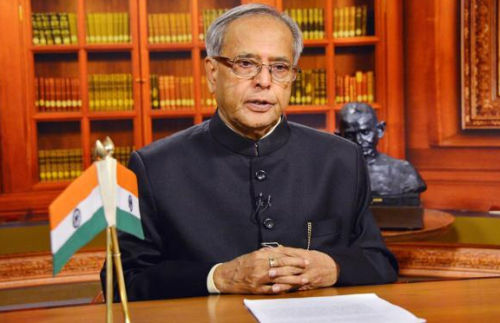 President Pranab Mukherjee will arrive in Himachal Pradesh on May 23 on a three-day visit. This will be his first visit to the state after taking the highest office in the country. The President would stay at the presidential home, The Retreat near Chharabra.
He will address a session of the Himachal Assembly on the occasion of its golden jubilee and also attend the 20th convocation of Himachal Pradesh University (HPU) on May 24.
In the HPU convocation, President will confer 272 doctorate degrees, including the most prestigious degree in doctorate of science, besides 244 gold medals and prizes. In this convocation there are few distinguish personalities, who will be awarded an honorary doctorate that includes Nagaland Governor and former CBI director Ashwani Kumar and Vice chancellor of Lucknow's Baba Sahib Bhimrao Ambedkar Central University R.C. Sobti.
Ashwani Kumar was 1973 batch IPS officer and hails from Sirmaur district of the Himachal Pradesh. He was appointed as the Director of CBI in 2008 and led the premier investigating agency till November 2010. Ashwani Kumar was the first head of the premier investigating agency to be appointed as Governor.
President Pranav Mukherjee would be the chief guest and deliver the convocation address, in which Himachal Pradesh Governor Urmila Singh and Chief Minister Virbhadra Singh would be present.
During his visit to the hill state, Mukherjee will address the assembly and deliver the first Rabindranath Tagore Memorial Lecture at the Indian Institute of Advanced Study (IIAS) here May 24.
Himachal Police has been busy making elaborate security and other arrangements for the visit. Police is also making all-out effort to ensure that least inconvenience to general people.