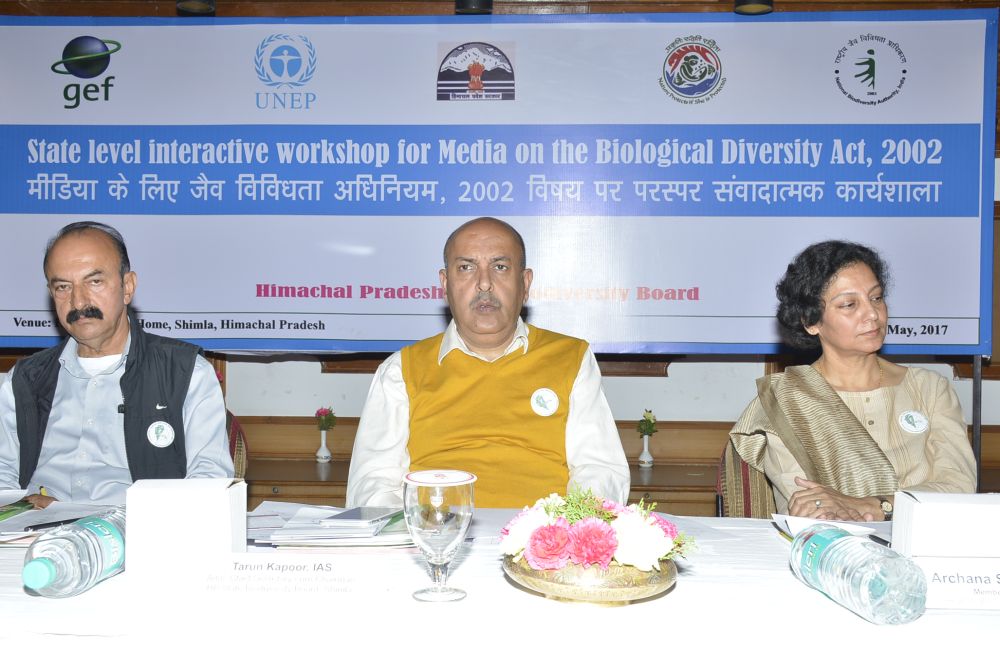 Himachal Pradesh was an abode of rich biological resources which needs to be conserved by everyone. Over exploitation and monopolization were responsible for extinction of millions of biological resources posing a major threat on living beings as well, Additional Chief Secretary-cum-Chairman State Biodiversity Board Tarun Kapoor accepted in a State level Interactive workshop for media on Biological Diversity Act, 2002, today.
Senior officer informed that State Biodiversity Board had been constituted in Himachal Pradesh for implementation of provisions of Biological Diversity Act, 2002. This Act emphasises on formation of Biodiversity Management Committees (BMC) at gram panchayat level and documentation of people biodiversity register (PBR) aims to give the access and benefit control over biological resources to the local bodies.
He said the Act provides ownership of biological resources to the local panchayats. The Board was implementing a programme to increase the institutional, individual and systematic capacities of all stakeholders to effectively implement the Act to achieve biodiversity conservation.
Tarun Kapoor said media plays a critical role in providing information that influences public opinion leading to social change including conservation and the environment. The outreach of duo print and electronic media had grown manifold during last two decades. Acknowledging the influence of media on society. ACS said that media helps citizens by informing about the latest issues, information and knowledge. He urged the media to specially disseminate the significance of biological resources which were at the verge of extinction about which the younger generation was least knowledge and concern.
He informed HP State biodiversity Board had constituted 425 Biodiversity Management Committees comprising 3 Ecosystems in the State. Project for identification of Sacred Groves for declaration them as Heritage Sites in the State being executed in the State with collaboration of WWF, Shimla, he added. He said around 350 economically potential bio resources had been identified. The major component of the tradable commodities traded from the State is medicinal plants and estimated 2500 MT of non-timber forest products worth crores of rupees were officially traded annually.
Giving an overview of tools, guidelines, framework and scope of the Board, Joint Member Secretary of HP State Biodiversity Board Kunal Satyarthi emphasised the need of formation of BMCs in all panchayats of the State including Panchayat Samitis and Zila Parishad levels considering the rich biological wealth of the State with 90 percent of population residing in rural areas where more than 2/3rd of the land was under forest. He said around 500 medicinal plants were used by local for curing the various ailments. Horticulture sector of the State alone generates an economy of Rs. 4000 crore annually.
He said the Biodiversity Act comprises stringent provisions of punishment on violation which could be an imprisonment of 5 years and fine upto Rs. 10 lakh or both. He said the Act provides for conservation of biological diversity, sustainable use of its components and fair and equitable sharing of the benefits arising out of utilization of genetic resources and to give effect to the said convention.
Director Environment, Science & Technology Archana Sharma said India was a treasure of 5-10 million species of animals and plants, out of which 1.70 million had already lost while two million were estimated to be lost in next decade. She said the inventory of threatened species was maintained by the Board which regulate access and benefit sharing.