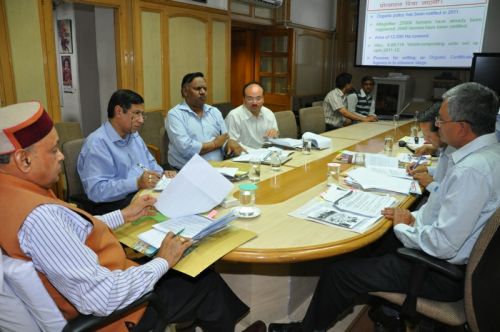 Shimla is all set to host the 'Organic Fair and Food Festival' next month revealed the Chief Minister Prem Kumar Dhumal. With the view to popularize organic farm produce amongst the farmers as well as consumers, Agriculture Department had notified Organic Policy during last year.
With the objective to motivate farmers to cultivate organic farm produce to generate additional revenue out of their farm activities, the organic Fair and Food Festival is sure to inspire the farmers in the coming times.
According to the Department of Agriculture, 25 thousand farmers had already been registered for organic farming out of which 2,040 farmers had been certified by authorized certification agencies.
Chief Minister Prem Kumar Dhumal said that 12,500 hectares farm area had been brought under the organic farming in the State and the State Government would be considering declaring tribal areas as Organic Zone in the State. He said that 4,09,114 vermi-composting units had already been set up during previous financial year. He said that demonstration farm on organic methods had been set up at Solan to train farmers.
He said that with a view to ensure proper marketing facilities to organic farmers, the State Government would be exploring possibilities of earmarking space for marketing organic farm produce to consumers besides ensuring availability of agricultural inputs to farmers.
Among the attendees S.Roy, Chief Secretary, Bharti Sihag, Principal Secretary Forests, Ajay Mittal, Principal Secretary to the Chief Minister, Maneesh Garg, Secretary Finance, Dr. J.C.Rana, Director of Agriculture, Dr. S.K.Sharma, Vice Chancellor, CSK University of Agriculture and other senior officers were there to attend the meeting.