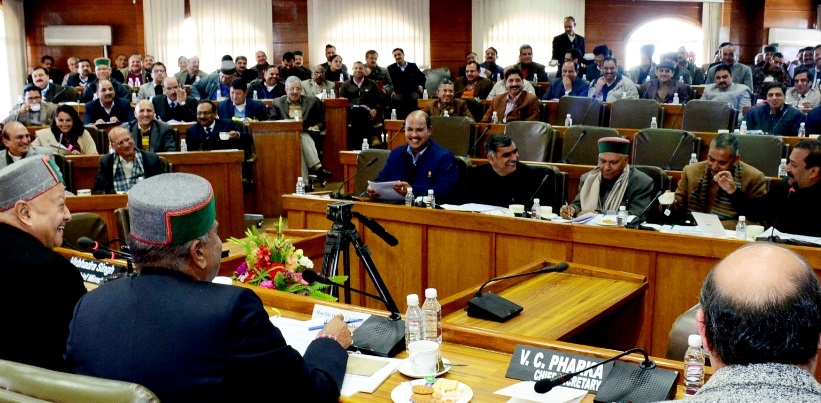 Chief Minister Virbhadra Singh stressed for Social Audit of the developmental schemes to avoid over-run of cost and time. The Chief Minister, while presiding over the meeting conducted for finalization of priorities of MLAs for budget 2017-18, said that regular monitoring of the schemes was required to be done in implementation stage.
While listening to the MLAs of Kangra, Lahaul and Spiti, Kinnaur, Chamba, Una and Hamirpur districts today, the Chief Minister directed to expedite the development projects and to fast-track the pending cases of 'Nautod' in tribal areas of the State as Forest Clearance Act (FCA) had been suspended in tribal areas for a particular period. He said that a time frame would be fixed for allocating 'Nautod'.
MLA, Nurpur, Ajay Mahajan urged for starting work on the Nurpur Stadium as possession has been taken by the department concerned. He also urged for setting up a 'Blood Bank' in Civil Hospital Nurpur and for issuing notification of the 135 bed hospital as announced by the Chief Minister. He said that though the building of Primary Health Centres at Ladori, Sadwan, Aund and Badui had been completed for quite some time now the electrification of the PHCs was too much delayed. The Chief Minister suggested for a Combined Tender rather floating different tenders for civil and electrical works.
The MLA also urged for additional funds for Rs 204 crore Phinna Singh Irrigation project as Tender for Dam has been floated but due to shortage of funds the work was in limbo for which the Chief Minister assured and directed the concerned department. He also urged for funds for completion of Sewerage Scheme of Nurpur, the work on which has been started but was hanging due to paucity of funds. He also urged for funds for completion of other WSS in his constituency under NABARD.
MLA, Jawalamukhi, Sanjay Rattan suggested for enhancing the NABARD limit for MLA priority schemes and for enhancement of Budget under 'Mukhya Mantri Sadak Yojna' to Rs. 100 crore from existing Rs 50 crore.
MLA, Jaisinghpur, Yadvinder Goma urged for creating and filling up the post of Doctors and para-medical staff in 100 bed Civil hospital, Jaisinghpur. He also urged for providing additional funds for the construction and completion of the Hospital building.
Chief Parliamentary Secretary Jagjeevan Pal from Sulah constituency also urged for conducting an inquiry of Subhash Hydel project in Private sector on Neugal River at Bandla (Palampur) in his constituency. He said that Kirpal Chand Khul was the backbone of the farming community of half of the Sulah Constituency and the Project was affecting both flow drinking water schemes of Darohgarh and Chowki-Khaleth. He also urged for post of radiographer and other paramedical staff in Community Health Centre, Khaira and renovation of PWD rest house at Naura-Dhira. The CPS demanded additional funds for Kangain-Thambu lift water supply scheme.
MLA Baijnath, Kishori Lal urged for construction of residences for doctors in Baijnath hospital besides providing Gynecologist, a surgeon and radiographer. Kishori lal also urged for replacing X-ray machine at CHC Chadiyar.
The MLA also urged for diverting the waters of Binwa rivulet as during monsoons it causes threat to the 'Kheer Ganga Ghat', a place where many devotees come to take a holy dip. He also demanded laying underground cables of electric and telephone wires in Baijnath Bazar.
MLA, Lahaul Spiti, Ravi Thakur urged for enhancing the Budget under "Vikas Mein Jan Sahyog' scheme. He said that at present the Power Tillers and Power Spray were being given to the farmers having landholdings upto 12.50 bighas and urged for changing the norms and demanded that the farmers who have small land holdings upto five bighas should also be taken in the fold.
He said that a type of Nursing Institute or some other vocational institute should be opened at Keylong so that the youth could utilize the same for seeking job opportunities further. He urged for installing 'Lift' in Regional hospital, Keylong.
MLA Kinnaur Jagat Singh Negi who is also Deputy Speaker, Vidhan Sabha, demanded for clearing the pending 'Nautor' cases in Tribal areas. He also urged for shifting the Polytechnic Institute which was functioning at Rohru. He also advocated for enhancing the nucleus budget in Tribal areas and urged that instead of combined Tenders of IPH in the tribal region, the tenders should be split to more than one contractor. He also urged for funds under National Rural Health Mission. The Deputy Speaker said that there was huge shortage of water pipes in his constituency and they should be provided at the earliest.
He appealed to clear the subsidy cases lying pending with horticulture and Agriculture department.
MLA from Churah constituency Hans Raj urged the government to take effective steps for promoting floriculture, vegetable production and horticulture activities in the area.
Bhatiyat MLA Vikram Jaryal demanded for carrying out repair and maintenance of roads, drinking water schemes and opening of health and education institutes at various places in his constituency.
MLA Chamba Balkrishan Chauhan also urged for early completion of drinking water and irrigation schemes in his constituency.
Rakesh Kalia, MLA Gagret urged for sanctioning two more posts of doctors to strengthen CHC Gagret. He also demanded a Sub-Tehsil for his constituency and urged the Chief Minister to take up the matter again with the Government of India for release of funds for remaining work of Swan river channelisation in Una district.
MLA from Sujanpur assembly segment Narinder Thakur urged for construction of sports hostel and bus stand at Sujanpur. He requested the government to release the pending pension to the retired employees of Transport department. He also urged for speeding up the work on preparation of roads DPRs and starting buses on newly sanctioned routes.
Nadaun MLA Vijay Agnihotri sought action against unscientific and illegal missing in his assembly segment. He urged for construction of check dams and channelisation of rivulets and early completion of work on PHC and CHC buildings in his area.
Chief Parliamentary Secretary Inder Dutt Lakhanpal demanded to make provision of budget for repair and maintenance of small schemes of Irrigation and Public Health department and release of extra funds for repair of roads.