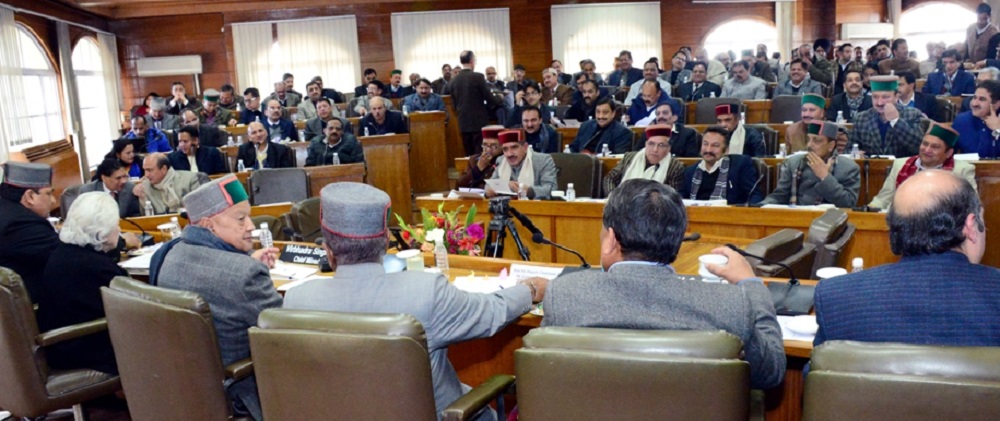 Shimla: The Himachal Pradesh government has proposed State Annual Plan of Rs. 5700 crore for financial year 2017-18. The plan is increased of Rs. 500 crore over present fiscal, amounting to 9.61 percent, which is more than the State's growth rate of 7.7 percent.
Chief Minister Virbhadra Singh, in a meetings of MLAs of Solan, Shimla and Sirmaur districts today for the finalization of priorities for 2017-18 budget, revealed that Detailed Project Reports (DPR's) amounting to Rs. 470 crore had been got sanctioned through NABARD for meeting out the MLA's priorities, adding that DPR's of around Rs. 1100 crore were ready and forwarded to NABARD for sanction.
The Chief Minster said that it was necessary to conduct the social audit of the new schemes or those being implemented as it was important to learn about the pros and cons and the reasons of lagging behind, if any. It becomes easy to correct oneself at the very beginning rather than waste time in mending the mistakes afterwards.
He stressed for social audit of Atal Mission for Rejuvenation and Urban Transformation (AMRUT) Yojna being implemented in Shimla and Kullu, for Skill development schemes, for 'Mukhya Mantri Start-up Yojna' and many other schemes as well and directed to complete all the development projects in time bound manner.
He said the government had eased the process of setting up of new industries in the State so that more employment opportunities could be created and to accomplish this 'Mukhya Mantri Start-up Yojna' was being implemented. He said that a Skill Development Centre had also been set up at Baddi.
The Chief Minster directed for the pushing up the Forest clearance cases. He said that the Forest officials were part of the Government and it also becomes their responsibility to pursue the forest clearances for paving the way for development. He said that they should have a proactive approach.
He also directed to change the contractors who delay the projects and said the Dharampur-Kasauli road needs to be widened and directed for preparation of DPR for the same. He also asked to purchase water pipes of different dimensions for routing water to households, anticipating the availability of connections to be provided. He said that the Government had reviewed as many as 228 major water supply schemes in the State and also sanctioned a sum of Rs 50 crore for their early completion, out of which Rs. 25 crore had already been released.
Virbhadra Singh directed the departments to give utmost attention to the priorities of the MLAs. He also asked to hold routine joint meetings of officers of PWD, Forest and Revenue departments to ensure quick approval of road projects. He also directed for proper maintenance of old irrigation schemes and hand pumps and directed to change the old pumping motors with new ones in case they were demanding repeated repairs.
IPH Minister Vidya Stokes, Social Justice and Empowerment Minster, Dr. (Col), Dhani ram Shandil, Chief Parliamentary Secretaries Vinay Kumar, Nand Lal and, Deputy Chairman, State Planning Board G.R. Musafir, Chief Secretary V.C Pharka, ACS (finance), Dr. Srikant Baldi, and senior officers of the Government were also present at the meeting among others.