Tapovan: The fourth day of the winter session of Himachal Pradesh Assembly began on a stormy note today with the Opposition members demanding revocation of suspension of its three legislatures.
The opposition members, as the house assembled today, created ruckus in the house, demanding revocation of suspension, but speaker conducted the question hour amidst uproar. The Opposition members, failed to get heard, staged a walk out from the house. They also staged protest outside the Assembly and raised slogans against the state government.
The three suspended BJP lawmakers, Suresh Bharadwaj, Rajiv Bindal and Randhir Sharma, sat on the stairs of Vidhan Sabha gate after they were denied entry to the Assembly, and protested.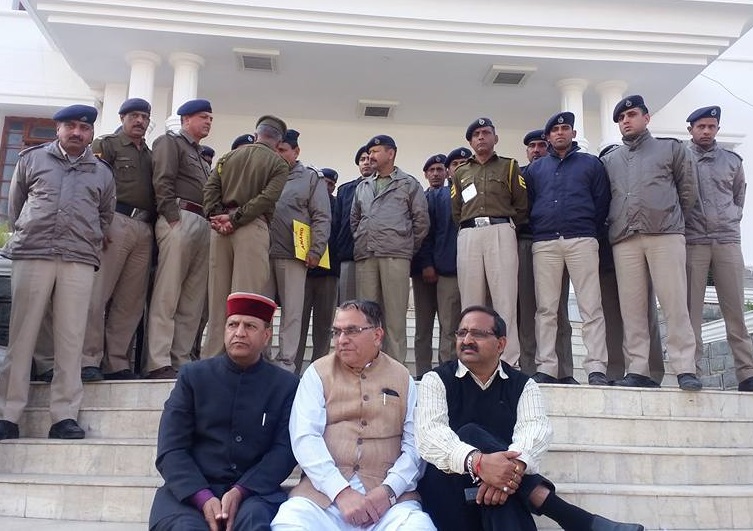 Earlier yesterday Suresh Bharadwaj, Rajiv Bindal and Randhir Sharma were suspended from the house for rest of the winter session after Suresh Bharadwaj set on the Speaker's chair in Speaker's absence and pronounced adjournment of the House. Other two BJP members, Rajeev Bindal and Randhir Sharma, were also came near the chair of the Speaker and raised slogans against him. The House found language used in the slogans derogatory.
Minister for Parliamentary Affairs Mukesh Agnihotri, who brought the resolution, termed the incident unprecedented in the history of the Himachal Assembly. Chief Minister also criticized the action of BJP members and termed the act as "reprehensible."
The Opposition BJP protested against the treasury bench move and Leader of Opposition Prem Kumar Dhumal called the state government's attitude "dictatorial". Dhumal stated that "The Government is working on the press news, as no notice of suspension was given to the three MLAs.
Meanwhile, the Opposition BJP has moved no confidence resolution demanding removal of Vidhan Sabha Speaker Brij Bihari Lal Butail from the post. The resolution was submitted to secretary of Vidhan Sabha. It is for the first time in the history of Himachal Vidhan Sabha that the Opposition has moved no confidence motion against speaker.
The BJP in resolution has leveled allegation of failing to follow the laid down norms of the house and also leveled corruption allegation on recruitment in e-vidhan project against the Speaker.