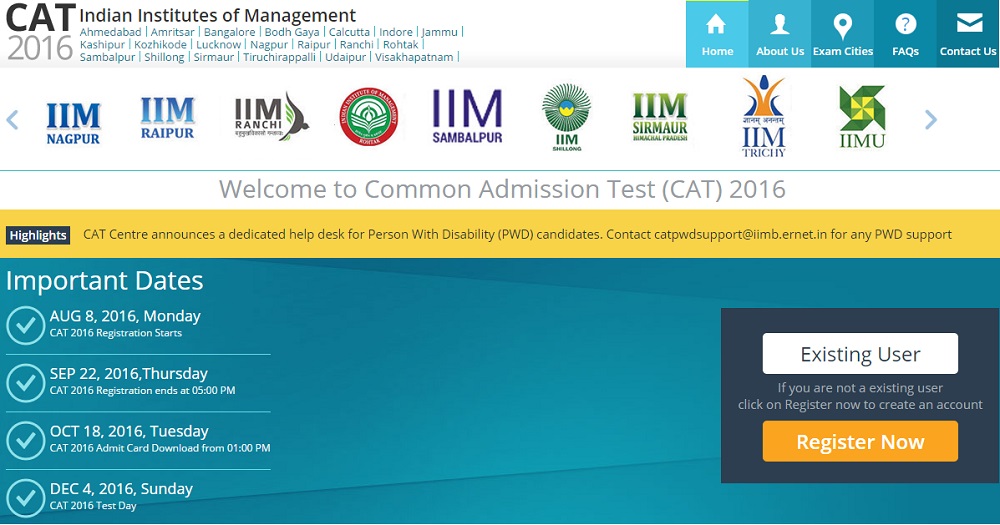 Considered as one of the most difficult entrance examinations in India, CAT is taken by hundreds of thousands of candidates every year. For those who want to purse a successful and rewarding career in the field of management, CAT is a pathway to some of the top ranking business management schools including Indian Institutes of Management (IIMs).
Therefore those who want to give CAT exam this year, need to know that the online registration are on currently and candidates will be able to apply for the same until September 22, 2016. The admit card for this online only exam will be up for download from October 18, 2016 and the exam will be held on the December 4, 2016. Once the exam is over, candidates can expect the announcement of CAT 2016 exam result in the first week of January 2017.
Aspirants who want to give the exam should know that there would be 100 questions in all with three marks for each correct answer and one mark will be deducted for each wrong answer. The test will be of three hours duration during which candidates have to answer questions from three sections: Verbal Ability and Reading Comprehension (VRC), Quantitative Aptitude (QA) and Data Interpretation & Logical Reasoning (DILR). Each section will contain 34, 34 and 32 questions respectively.
For candidates belonging to Himachal Pradesh will be having only one exam centre i.e. Shimla. Candidates who want to know more about the CAT 2016 Exam can check information on the link provided above. Since Shimla usually have a shivering cold in December, so the candidates are required to take the necessary measures to keep them safe from the cold and also take the measures to reach to the exam centre on time in case there is a snowfall which is quite frequent in the month of December.