Nauni/Solan: Jagriti Thakur, a research scholar of the Dr YS Parmar University of Horticulture and Forestry (UHF), Nauni was honoured with the International Plant Nutrition Institute's (IPNI) Scholar Award 2018.
Jagriti is a doctoral scholar at UHF's Department of Soil Science and Water Management.
The award was presented to her in a award ceremony jointly organized by the IPNI South Asia Program and the Department of Soil Science and Water Management. Dr T Satyanarayana, Director of the IPNI South Asia Program presented the award to Jagriti, who is among 30 research scholars from across the globe to have been conferred with this prestigious award. The award includes an IPNI Certificate of Honour and cheque of $2000.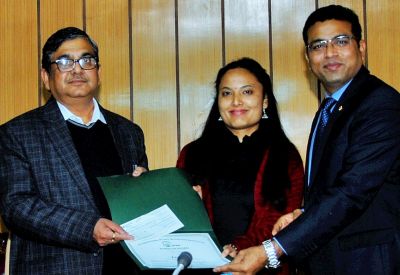 The IPNI award has been conferred on Jagriti for her PhD thesis research on the topic, 'Standardization of irrigation and fertigation schedules for apple under high-density plantation'. For the past year, she has been conducting research at the university's high-density apple plantations. During the event, Jagriti also presented her ongoing research work, which she is hopeful will be helpful for better utilization of resources and raising farm incomes of apple growers.
While congratulating Jagriti and her research guides on the achievement, Chief Guest Dr PK Mahajan, Dean College of Forestry urged other students and researchers to think out of the box. He was of the view that there was no shortcut to success especially in the field of research.
"Our graduates have gone on to occupy prominent positions in public and private enterprise across the world. The fact that our two students have been able to bag this international award in the past three years speaks volumes about their dedication and the quality of work being done at the university," said Dr Mahajan.
Earlier in the day, Dr T Satyanarayana gave a presentation about the IPNI and its activities. He said that the award which is being given since 2007 and is a direct recognition to the good work done by researchers across the world. Dr JC Sharma, Professor and Head Department of Soil Science and Water Management, who is also Jagriti's research guide in PhD thanked IPNI for hosting the award ceremony in the university. He said such awards recognize the efforts of researchers and give greater impetus to their research. He said that present research would help to determine the water and nutrient requirement for apple under high-density plantation for proper utilization of these resources.
Dr Rakesh Gupta, Dean College of Horticulture, Dr Kulwant Rai, Students' Welfare Officer, heads of various departments, scientists and staff, and research scholars were present on the occasion.