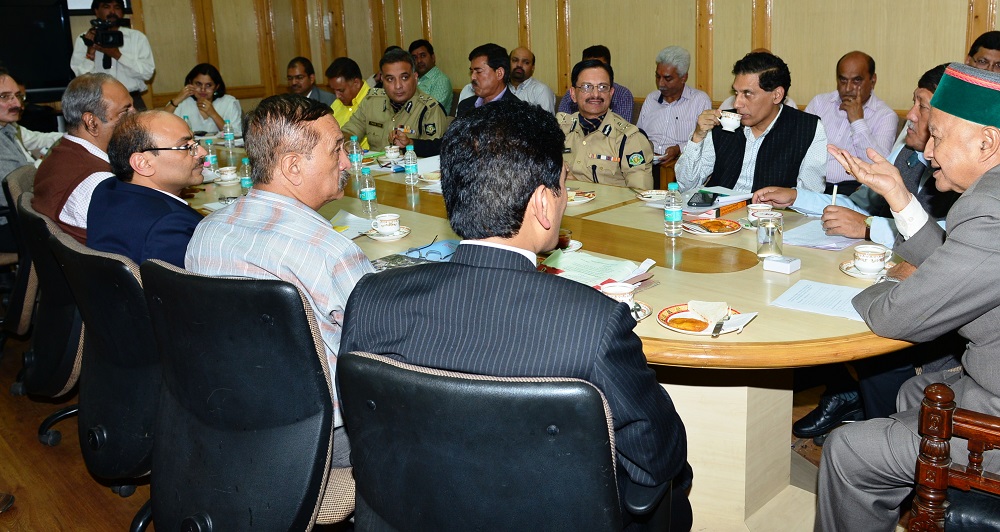 Shimla: To check drug menace and break the nexus between drug manufacturers, sellers and drug peddlers, Himachal Pradesh Chief Minister Virbhadra Singh pitches for amendments in rules and regulations.
The Chief Minister, in a meeting to assess the implementation of the orders to control drug abuse in the State, stated that punishment should be more stringent to discourage the drug peddlers.
He exhorted the people and the voluntary organisations to come together and work with zeal, determination and sense of conviction to save the future generations falling prey to drugs. He said
"I am sure that the collective efforts of all will bear fruit and the results would be visible in times to come"
The Chief Minister said that most of cannabis was being grown in the high and far-flung region of the state and by promoting cultivation of cash crops and construction of roads would help check its cultivation.
"Though we have miles to go before we make Himachal a completely drug free state, yet the steps or decisions we have taken are required to be supplemented by 'one and all' in true perspective to root out the evil", he said. He said people should be sensitised about the ill-effects of using drugs.
The Chief Minister also directed the police department to keep eye on few foreign Nationals who had chosen to stay in far flung areas of Kullu and elsewhere. He said that the defaulters need to be dealt with a heavy hand.
He also agreed for more Drug Inspectors to be kept in the Health department so that the Chemists involved in sale of psychotropic drugs could be brought to book.
Principal Secretary Health, Prabodh Saxena proposed to make contravention under section 18 (c) of the Drugs and Cosmetics Act as a cognizable and non-bailable offence which will act as a deterrent against misuse of drugs. He also suggested that a letter be written to Union health Minister requesting him to declare few drugs as controlled drugs, so that check could be kept on chemists by conducting raids regarding the quantity of drugs in store.
Chief Secretary VC Pharka suggested uprooting the cannabis and trying other alternative crops on the same land.
DGP Sanjay Kumar disclosed that the rate of conviction for May 2016 was just 25 % but in July end it came up to 33.3%, which was a positive sign. Senior Civil and Police officers were also present in the meeting amongst others.