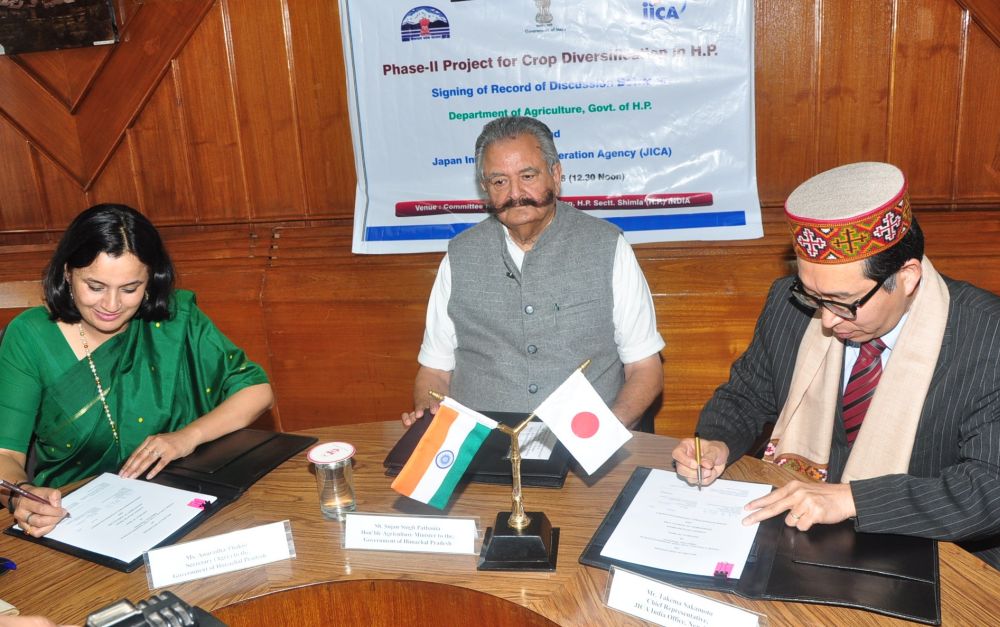 Department of Agriculture, Himachal Pradesh signed MoU with Japan International Cooperation Agency (JICA) for implementation of Phase II Project for Crop Diversification in Himachal Pradesh.
Secretary, Agriculture, Anuradha Thakur and Chief Representative, JICA, Takema Sakamoto signed it on behalf of H.P. Government and JICA respectively. The project would be for five years from 2016 to 2020 for Crop Diversification in the state. Agriculture Minister Sujan Singh Pathania was also present on the occasion.
The Phase II TC project aims to uplift and stabilize farmers' livelihood level through further expansion of crop diversification according to agro-ecological situations in the five districts of the State including Bilaspur, Hamirpur, Kangra, Mandi and Una. The Project would focus on the enhancement of crop diversification model which was developed under Phase I TC Project and would ensure strengthening the organisational capacity of Department of Agriculture (DOA) to promote crop diversification in the five districts through training and extension services to the farmers, compiling replicable packages on new techniques, identifying effective marketing activities and formulation of five-year-action plans.
The activities of the project would be held in over 200 irrigation sub-project sites covering 3710 hectare area which have been developed under the on-going JICA supporting Official Development Assistance (ODA) Loan Project.
Director, Agriculture, S.R. Kalia, Vice-Chancellor, Agriculture University, Palampur, KK Katoch and Representatives of Agriculture department and JICA were also present on the occasion.