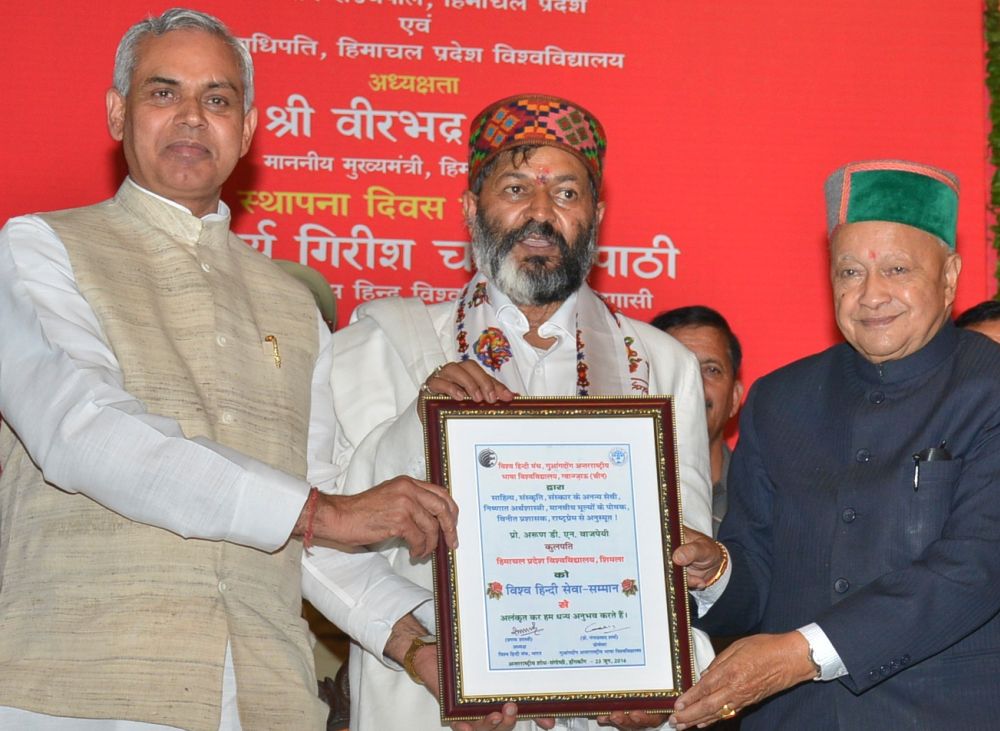 The Himachal Pradesh University celebrated its 47th foundation day here today with great zeal and enthusiasm. The Governor, Acharya Devvrat, was the Chief Guest and Chief Minister Virbhadra Singh presided over the function.
The Governor in his keynote address emphasized to channelize the youth energy towards constructive purposes which, if not properly channelised could prove to be destructive and harmful for the society. He advised to bring youth into mainstream and motivated to participate in nation building activities.
The Governor stressed upon the need for seriousness towards education and said that it was not the physical invention which builds the strong nation but the teachers, who were responsible to instill the values of patriotism, discipline, humanity in the students so that they grow up as sensitive and responsible human beings. He said that it was mentioned in 'Sankhya Darshan', that nothing in this world which was not meant for the others and helping others particularly the needy ones, was a great service.
The Chief Minister stressed upon discipline in the campus and added that the teachers should not try to impose their personal ideology upon the students when it comes to teaching profession. He said
"They should, keep their idealistic nature and speculations aside and believe in teaching the right values and discipline to the students. The discipline should not be confined or targeted to, by creating a sense of fear in the students, but it should be to make them learn in righteous manner, as it was also a part of discipline"
He also inaugurated the Solar Plant in the university premises.
Both the Governor and the Chief Minister released 'Himshikhar', 'Navounmeshi', and over dozen other university magazine besides several other books, brochures, monographs, journals and newsletters published by the University and the teaching and non-teaching faculties.
Earlier, Vice-Chancellor, HPU, Prof. ADN Vajpayee welcomed and honoured the Governor, the Chief Minister and other distinguished guests present on the occasion.
Vice-Chairman, HPTDC, Harish Janartha, Pro-Vice-Chancellor, Dr. R.S. Chauhan, Director, Higher Education, Dinkar Burathoki, Member, Executive Committee, HPU, Rajkumari Thakur, Registrar, Dr. Joginder Negi, Dean Studies, Dr. Girija Sharma were also present on the occasion amongst others.