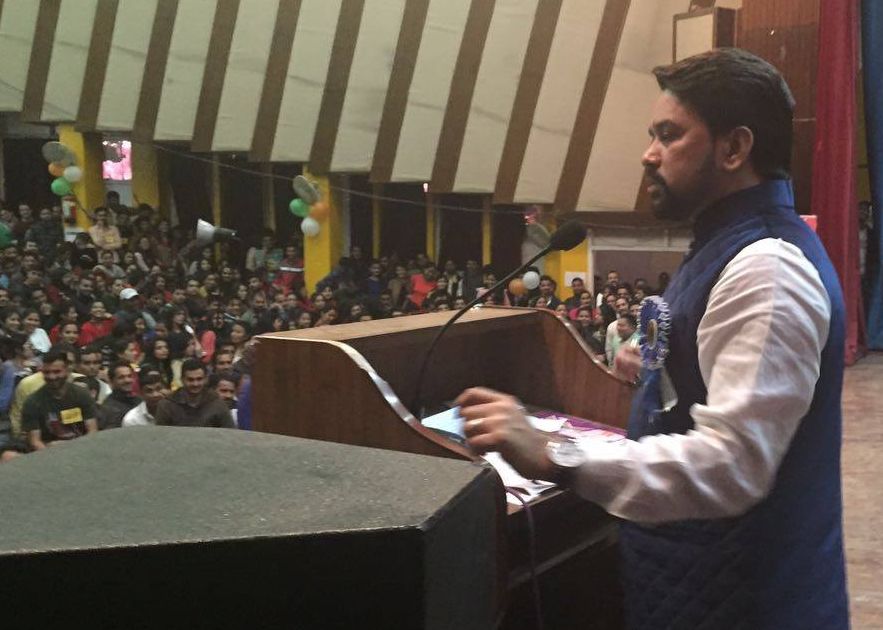 Hamirpur parliamentarian Anurag Thakur has blamed the Himachal Pradesh government for faulty implementation of Rashtriya Uchhtar Shiksha Abhiyan (RUSA) for undergraduate courses.
Anurag, in a press statement, stated that RUSA was introduced in a hasty manner by the Himachal Pradesh University colluding with the state government to get additional annual fat funds of 100 crores from the Centre. Thakur said
"In their greed, Virbhadra government has played with the future of its students. Today, these students aren't able to apply for their post-graduate courses in Delhi, Punjab, Chandigarh and other University because their RUSA degrees are not being recognised."
Thakur further expressed anger saying,
"To make matters worse, the university is raising fees as well as planning to introduce RUSA system in its post graduate courses as well. No justification could be given for delaying the results, in some cases, for as long as 3 years. So now, if a 3rd year graduate gets to know he hasn't cleared a 1st year course, he/she would return and wait for additional years to complete these courses again! Virbhadra government should answer why such hasty implementation was done? What was their urgent need for annual 100 crores fund? Was it worth playing with student's future?"
He asked the state government to clarify the haste behind implementation of the RUSA. Thakur assured to raise the issue in the parliament. He requested the HRD ministry to immediate intervention into the hasty implementation of RUSA, delayed results and proposed fee hike with HPU.