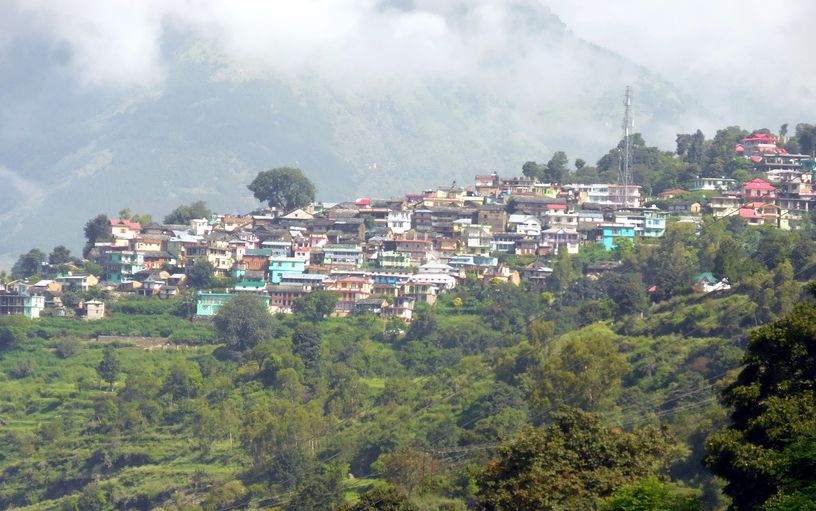 Nirmand is a name familiar to Shrikhand trekkers. And this is not the only reason this village is famous for. Nirmand is believed to be the biggest village in Asia. However, it is hard to say how much ground this claim holds, you will eventually start believing the same after paying a visit the village. A huge cluster of houses, big and small, built out of mud and stone will make your head spin. Numerous slated roofs and narrow streets under the mighty western Himalayas make this village completely different from others.
The pristine village
Keeping its unmatched traditions and cultural heritage preserved, this ancient village is located in the remote area of Kullu district of Himachal Pradesh. The village is about 130 km from Shimla. Being remotely situated, however, has not turned out to be of much help as modernization is gradually spreading its tentacles in every corner of the rural village. Still the villagers have managed to keep some traditions and rituals close to their hearts.
The village that is often referred to as the 'Kashi of the Himalayas' is home to shrubs of herbs and trees of golden apricots, green almonds, cherries and delicious apples. The name Nirmand is a spoiled form of Nrimund, which means the head of man as the severed head of Sati is said to have fallen here after destruction of Daksha Yajna, also referred to as Daksha-Yajna-Nasha.
Faiths and festivals
A local fair called Bhunda is held here once every few years in the fond memory of this mythological event. The fair is a form of human sacrifice in which a local person rides a long, hand-weaved rope tied between two nearby hilltops on a handmade saddle by his will or order of the local deity. In early days, the rider used to travel a long distance, minimizing chances of survival. The rider was supposed to die; representing contemporary form of human sacrifice. Nowadays, distance the rider travels is not more than 100 m and safety measures are high to make sure there is no loss of life.
Budhi Diwali, i.e., a celebration which takes place exactly after a month of Diwali, is a special dedication to the victory of gods against evils. The villagers re-celebrate the festival of light after a month by lighting bonfire, singing and dancing because they believe the news of Sri Ram returning to Ayodhya reached late in the remote villages.
Through fairs and celebrations, the villagers continue to showcase integrity and rich cultural heritage they own.
Dresses and dishes
After visiting this Kulluvi village, you will be able to identify effortlessly a Nirmand lady in millions. This is because of peculiar dresses and jewelry they wear. A petticoat paired with a dark-colored sadri and saffron-colored head cloth, which is called dhatoo in local dialect, are some attributes of the local fashionistas.
Festive celebration is not limited to colorful traditional dresses and folk dance and tunes, it is much more. The village receives a huge footfall of guests from neighboring villages, who are entertained with pahari cuisines and local wines. Sidu is the most common pahari dish which is prepared to welcome guests. Deep fried pakwan and sweet and salty dishes made from wheat grains are some other notable delicacies that are served in every house.
If you got introduced to this huge Himalayan village by chance (while en route to Shrikhand) or it was a purposeful visit, then you should spend some time to explore this lesser known place to know how life flourishes in remote and isolated areas like this where walking up/downhill for an hour or two to catch a bus or having access to electricity is considered luxury.