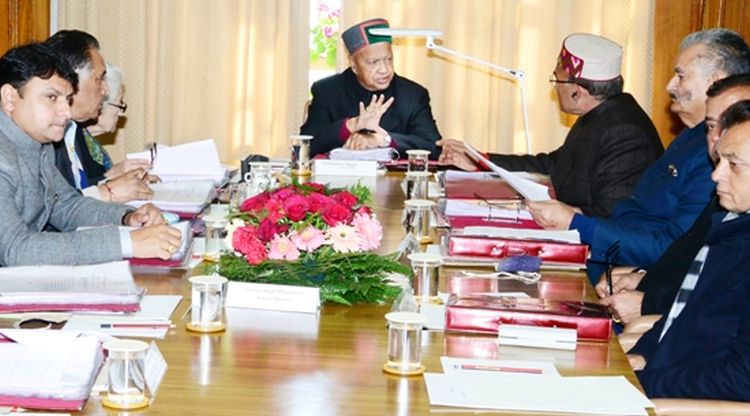 The Himachal Pradesh cabinet has given its approval to create and fill about 190 posts in the various departments. The Cabinet, in a meeting presided by Chief Minister Virbhadra Singh, accorded approval to create and fill 88 posts of different categories under Integrated Child Protection Scheme in eight districts of the State.
The Cabinet also decided to fill 48 posts of various categories in Horticulture Produce Marketing and Processing Corporation Ltd and 12 posts of various categories in Planning department through direct recruitment.
HP Cabinet accorded approval to fill 10 posts of Election Kanungo, four posts of Youth Organisers in department of Youth Services & Sports (YSS), five posts of drug Inspectors in Health department on contract basis and 16 posts of Bandman/Guardmen in Home Guards and Civil Defence department.
Approval was accorded to fill one post of Assistant Professor (medical Oncologist) in Radio-therapy and Oncology department of IGMC Shimla.
The Cabinet also decided to relax the educational qualification for promotion of 26 water carriers to the post of cooks in Police department.
Approval was accorded to create six posts of Para-medical staff in newly opened Medical Block Rampur. The Cabinet also decided to open L-I, Trauma Centre in Indus Hospital, Shimla.
It was also decided to adopt the revised guidelines prescribing the procedure as laid down by GoI for promotions to the selection posts. The HP Cabinet also gives nod to give one more opportunity of Typing test to those who qualified written test under Limited Direct Recruitment (LDR).
The HP Cabinet also gave its approval for regularizing policy for employees working under various societies in the Health and Family Welfare department who have been appointed as per R&P rules. The employees will continue to work in the same society against the concerned post which would be considered for conversion into RKS contract after three years and after eight years for regularization.
Aiming to facilitate the Bona-fide Himachali candidates, who qualify preliminary examination of Civil Services, the Cabinet decided to provide coaching assistance of Rs 30,000 per candidate as one time incentive, irrespective of income and caste. The scheme will come into force in financial year 2015-16.