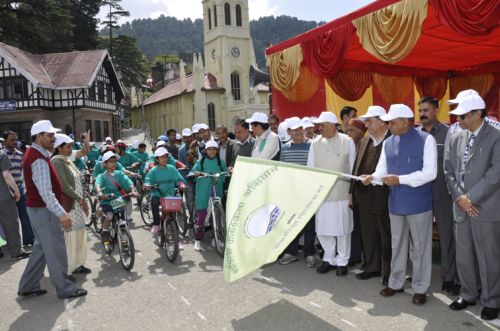 On the State Level Earth Day Celebration, at historic Ridge Maidan, CM said that State Government will motivate college and university graduates to join state wide sensitizing campaign aimed at protection of environment.
He said that it had been made mandatory to all the state owned educational institutions to administer 9 point Environment Pledge during morning prayer hours to the students to sensitize them about the importance of environment protection and save the natural potential for future generations. He said that with the awakening of the young generation the entire society would get enlightened and contribute significantly towards the protection of environment as they grow in age and stage. He said that Global Warming and Climate Change had been two indispensable concerns in the agenda of any of the Meeting at national and international level.
Chief Minister said that Earth Day celebration was just a reminder to the society to save the Mother Earth which had been offering invaluable gifts to the human being essential for sustenance of life. He said that ancient Indian scriptures had been describing worshipping of water, air, fire, mountain and tree which had immense significance in the lives of the people.
He said that Father of the Nation Mahatma Gandhi had well said that 'there was enough in the nature for every body's need but not greed'. He underlines the need for exploitation of the natural potential within the limits and refrains from over exploitation of the natural resources.
Prof. Dhumal flagged off the cycle and awareness rally from the historic Ridge Maidan carrying message of environment protection to the society. He also honoured Government Senior Secondary School, Phagli, with First Prize; Government Senior Secondary School, Lalpani, with Second Prize and Government Senior Secondary School, Lakkar Bazar and S.D.School, Shimla joint winner of Third Prize for slogan writing.
S.Roy, Additional Chief Secretary and Chairman, HP State Pollution Control Board, welcomed the Chief Minister, and said that Himachal Pradesh had emerged a role model for rest of the world in its endeavours to protect environment. He said that ban on use of recycled plastic bags, declaring major towns smoke free and introducing 9 point environment pledge in schools were some of the initiatives taken to sensitize the society about the protection of the environment. He said that cycle was considered to be the safest mode of transportation which did not cause any pollution and was good for health as well, hence cycle rally had been taken out. He said that the State was poised to achieve the target of Carbon Neutral State by year 2020.
Suresh Bhardwaj, MLA, Ganesh Datt, Vice Chairman, HIMUDA, Rajesh Sharda, President, Shimla BJP Mandal, Sushil Tanwar, Founder of Ashadeep NGO, Ramesh Sood, President, Shimla Beopar Mandal, Dhruv Vasisht, Managing Director, HRTC, other prominent people and senior officers of the State Government were present on the occasion.