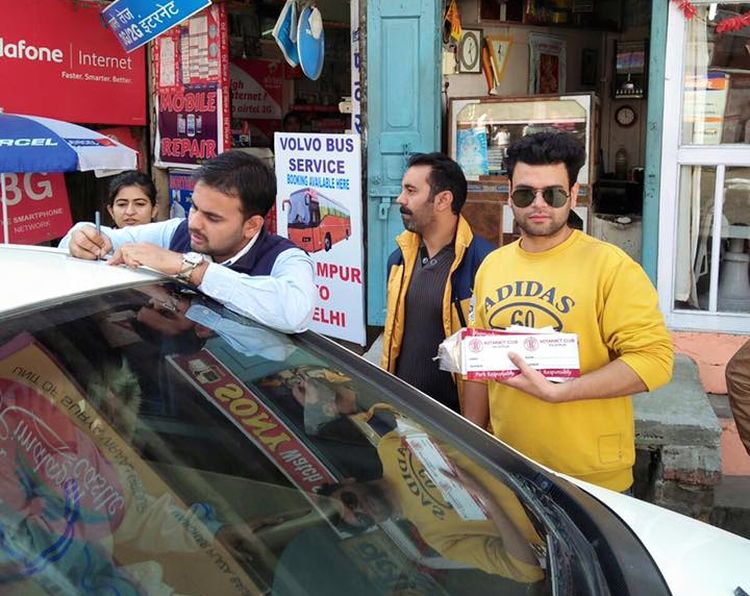 Palampur: Growing traffic has tremendously increased parking problems in most hilly towns of the Himachal Pradesh, and irresponsible parking adding woes of commuters, locals and traders day in, day out.
Aiming to help to reduce irresponsible parking at least in the congested city, Rotaract Club Palampur organised a responsible parking drive here today.
Volunteers of Rotaract Club Palampur, in its drive, educated more than 300 drivers about responsible parking practices and also paste stickers mentioning drivers name and phone number on the windshield of the cars.
Gokul Butail, volunteer of Rotaract Club Palampur said that many times we encounter cars parked irresponsibly on roads causing huge traffic jams and sometimes blocking way for emergency vehicles, in such situation having the car driver's phone number could be a handy helps substantially.
Most of the roads of the city in the Himachal Pradesh are usually being jammed with the ever growing traffic and few vehicle owners parked their vehicle waywardly on the side of the road, which forced traffic to standstill. Himachal being a hilly state need a huge sum of money and time to construct roads and parking facilities and in this scenario an awareness drive can prove handy to temporarily evade the problem.
Traffic police of the state doing their best to steer the traffic, but common-men engagement like Rotaract Club Palampur has tried today, can at least educate vehicle owners about responsible parking practices. Hope such activities spread in most of the city of the state.