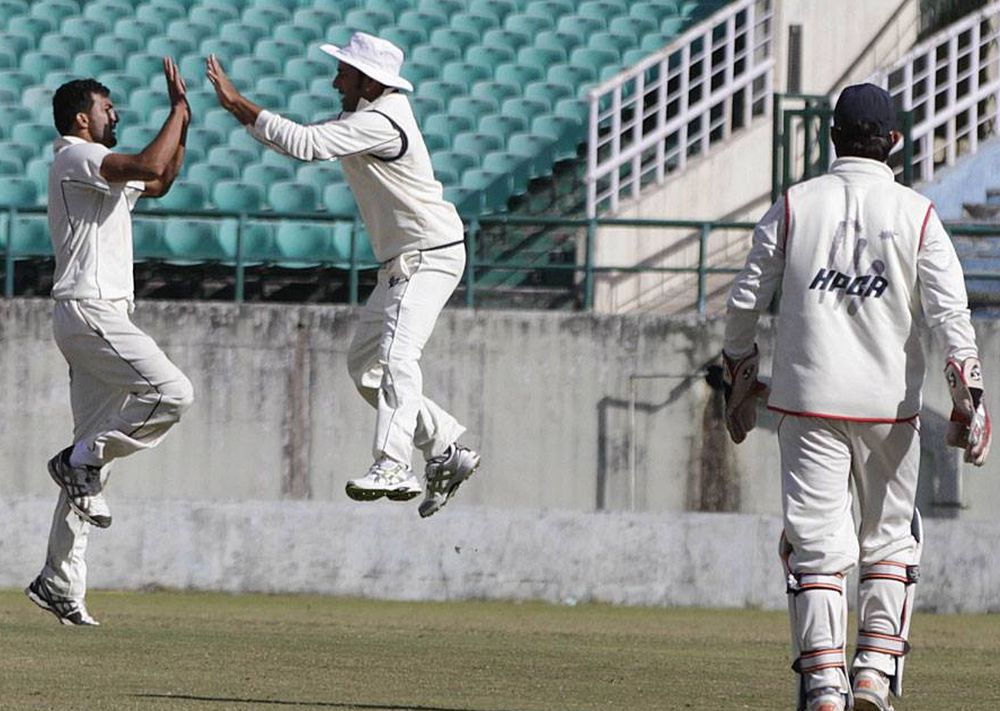 Dharamshala: After Paras Dogra splendid work with bat, Himachal bowlers helped to registered inning victory over visiting Tripura cricket team.
Early today morning at HPCA Dharamshala Cricket Ground, Himachal bowlers started well, from overnight three wickets, as Rishi Dhawan get valuable wicket of Rakesh Solanki and reduced Tripura to 98/4.
Tripura batsmen failed to give any solidarity to its inning as Himachal bowlers were getting wickets on regular intervals. However, for the last wicket stand Nirupam Sen Chowdhary and Abhijit Sarkar resisted for 19.5 overs and make partnership of 95 runs, highest for Tripura in this match, before Sarkar run himself out to Ankur Bedi.
Ankur Bedi and Akash Vasisht get three wickets apiece, while Rishi Dhawan gets two and Ankush Singh get one wicket.
Paras Dogra was adjusted Player of the match.
This is second victory for the Himachal Cricket team in Ranji Trophy 2015-16 session and with the extra bonus point for inning victory, now Himachal is placed second with 20 points from its four matches in the point table. Himachal has four more matches in the tournament and still to face table topper Saurashtra, Services, Kerala and Jharkhand.
Himachal Pradesh 561 for 5 declared (Dogra 209*, Bains 114, Prashant 104)
Tripura 285 (Bose 95, Chauhan 3-55) and 270 (Chowdhary 66, Bedi 3-50, Vasisht 3-63) by an innings and six runs