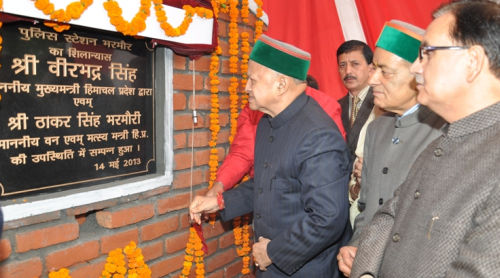 Chief Minister Virbhadra Singh said that the present State Government was committed to provide quality education to the youth near to their homes and had reopened all the 149 schools which were de-notified by the previous BJP Government. He was addressing a gathering at Chourasi Mandir Complex at Bharmour, in district Chamba today.
He said that to provide quality education was the priority of the government and the people should take benefit of it by sending their children to schools, so that they may be prepared to face the future challenges of life.
Chief Minister said that tribal areas of the State had rich cultural heritage which was needed to be preserved and promoted. He said that the State Government was endeavoured to promote all these areas as religious tourism destinations adding that he had represented the Mandi Parliamentary Constituency for five times and many areas of this constituency were in tribal belts and he was aware of specific local problems of people of tribal areas.
He said that the Government was encouraging the private entrepreneurs to set up hydel projects in the State which would provide employment avenues to the local youth. He said that it had been made mandatory to provide preference to local person in these projects.
Virbhadra Singh said that the present State Government had made significant achievements during last five months and many important decisions had been taken which would go a long way in the development of the State. He said that previous Government had neglected interests of the people and various jobs were provided on the basis of party lines whereas the present Government was committed to provide jobs on ability and merit basis. He said that the State Government was endeavoured to fill up all the vacant functional posts in all the departments especially in Education and Health, wherein priority was being given to the tribal areas.
Earlier, the Chief Minister Virbhadra Singh laid foundation stone of Police Station Bharmour near old Bus Stand to be constructed at a cost of Rs. 146.21 lakh and three storey Car Parking having capacity to park 45 vehicles at Bharmour to be constructed at a cost of Rs. 66.39 lakh.
Earlier, Chief Minister was given a very warm welcome on his arrival at Bharmour. He also paid obeisance at the famous Chourasi Temple.
Forest Minister Thakur Singh Bharmouri welcomed the Chief Minister and detailed about the various developmental activities being carried out in the Bharmour and Pangi area of Chamba district. He said that Chief Minister was to address a public meeting at Killar today morning but had to cancel the programme due to bad weather conditions.
He requested for the construction of Holi-Chamunda tunnel which would reduce the distance upto 300 kms for Shimla from the area and would provide all weather road connectivity to the people of tribal area besides it would also benefit 21 panchayats of non-tribal areas. He also requested to declare famous Mani Mahesh Yatra of Bharmour as International Fair like Minjar of Chamba.
Bhajan Singh Thakur, Member Tribal Advisory Committee and General Secretary, B.C.C. Bharmour presented the demand charter to the Chief Minister. Former Minister and MLA Asha Kumari, Chairman, HP Pollution Control Board Kuldeep Singh Pathania, Vice-Chairman HRTC, Kewal Singh Pathania, former MLA and President DCC Chamba, Surender Bhardwaj, Advisor to Chief Minister T.G. Negi, Principal Secretary to Chief Minister and Tribal Development V.C. Pharka, Deputy Commissioner Chamba Sandeep Kadam, Superintendent of Police B.M Sharma, senior officers and other prominent persons were present on the occasion.