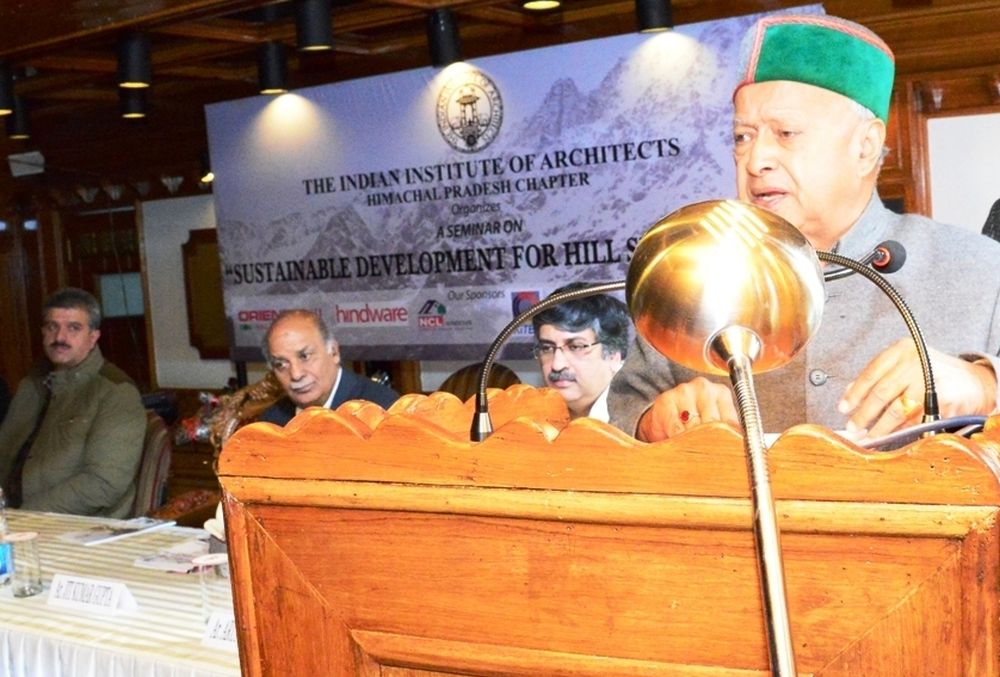 Shimla: Chief Minister Virbhadra Singh said the State government had laid special emphasis on adopting new and innovative policies for the conservation of the heritage and improvement of the habitat.
The Chief Minister, while speaking at the seminar on 'Sustainable Development in Hill Settlements' organized here today by HP chapter of Indian Institute of Architects, said the profession of Architecture was an important part of overall infrastructure developmental process. He said
"It was the need of the hour that architects understand their duty as designers to ensure an optimum balance between the needs of client and the environment so as to build structures that were climatically sensitive, energy efficient and functional as per the aspirations of the people"
The Chief Minister said the Architects had a key role to play keeping in view the massive growth of urban population which was throwing up challenges and opportunities in the housing and infrastructure sectors for the central, state and local governments, as well as private industry. He said the concept of sustainable development refers to environmental, economic and social sustainability, in totality. He further added
While planning to achieve sustainable development in Himachal Pradesh, the objectives should be to conserve the natural resources and the scenic capacities for the benefit of the present and future generation and to bring sustainable-social, institutional and economic development to local people
He said the architecture of the State was unique in character and quite different from that of the rest of India. This exclusive style was reflected not only in the palaces and the temples but also in the vernacular architecture of the region. The major challenges that architecture in the State face was of soil erosion and landslides, suitable orientation on the hill slopes, limitations on the height of the building due to earthquake risk and above all high cost involved in the site development.
Virbhadra Singh suggested that while designing and planning, the architects should carefully understand climatic conditions, cultural influences and topography of the State.
The Chief Minister also released the Souvenir "Sustainable Development for Hill Settlements" brought out by the HP Chapter of Indian Institute of Architects.
Chairman, IIA Himachal Pradesh Chapter and Chief Architect, PWD N.K Negi emphasized on the issues architects were facing in the State. He said there was lack of knowledge about the architecture profession in the State and thus it had huge impact on the planning and design of the cities. T
Mayor Sanjay Chauhan, representatives of the HP chapter of Indian Institute of Architect, Deputy Commissioner Dinesh Malhotra and other senior officers of the State government were present on the occasion.