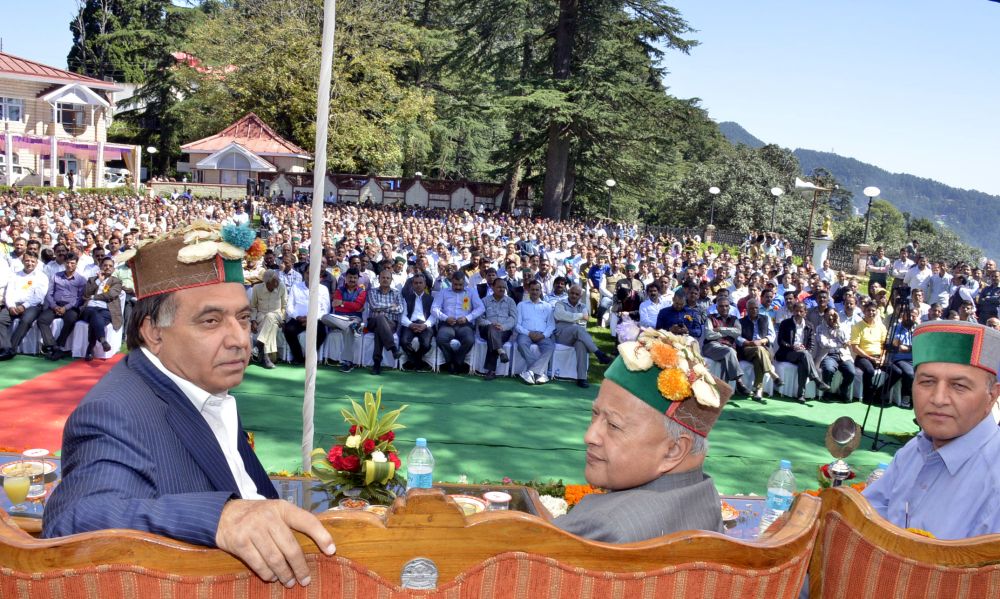 The Himachal Pradesh Government is mulling to create Corpus Fund to solve the problems of pension, gratuity and leave encashment of employees of Himachal Pradesh Road Transport Corporation (HRTC).
Chief Minister Virbhadra Singh, while speaking in the Foundation Day celebration of HRTC at Peterhof, today, stated that corpus fund may get pensionary benefits without any delay. He also announced six percent Dearness Allowance to employees and pensioners of the corporation.
He said that the State Government was committed for the welfare of the employees of HRTC and for providing them all benefits in a time bound manner. He said with changing of regimes, policies kept changing too and this effected the rules, either of pension or otherwise. He said that there was a need to change the system in larger interest of the employees and assured to formulate a suitable policy for welfare of employees and said that a way-out would be evolved to give monetary benefits to the retired employees of the Corporation in time bound manner.
Virbhadra Singh said unlike the private bus operators, HRTC even ply on those routes having minimum profit with the sole objective to facilitate the people of the area. He said that the Government has to see the welfare of the poor and middle class families who were dependent on transport services, thus it was necessary that the services being provided should fulfill all parameters like cleanliness, proper maintenance, dress code and politeness with the passengers etc., which would further infuse confidence amongst the people on State transport services.
He also released a souvenir on the occasion and visited the exhibition set up on the occasion showcasing HRTC services in far flung and remote areas.
Transport Minister G.S. Bali said that the government was committed to fulfill the demands of the employees and ensure their welfare.
The Minister supported the demands of the employees as Chairman of HRTC and said that the cases regarding pension would be discussed again in the Cabinet as it was deliberated upon in length in the Cabinet meeting earlier also and assured that matter of pensions at present is sub-judice but the government would find out a way that the pension don't get delayed.
As a special case, GS Bali sought permission from the Chief Minister to employ one member of family each of those who while coming to Shimla to attend the function died in an accident today near Bhota and announced to give his monthly salary to the next of kin of the deceased, besides assistance as per the norms.