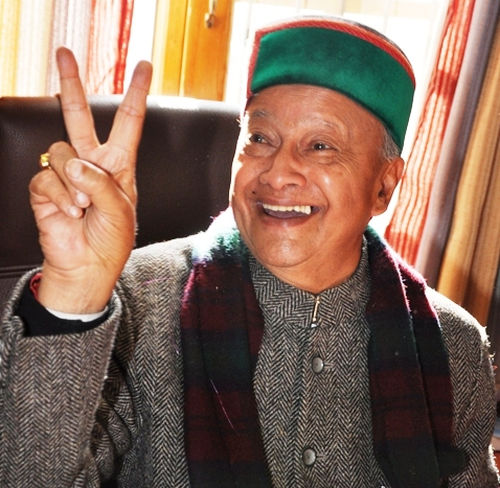 Virbhadra Singh took oath as Chief Minister of the Himachal Pradesh for record sixth time at the historic Ridge Maidan in an impressive oath taking ceremony here today. Thousands of supporters from every nook and corner of the state reached at historic ground to greet Virbhadra Singh at Sworn in ceremony. Many leaders from Rajasthan, Punjab, elected MLA's, Ex-Ministers and Ex-MLA's of congress party and senior officers of the State Government also take part in it.
Chaudhary Birendar Singh, General Secretary All India Congress Committee (AICC) and in-charge Himachal affairs and Anees Ahmed and Manish Chatrath Secretary AICC and other senior congress leaders were also present on the occasion. Maheshwar Singh, President Himachal Lokhit Party (HLP) was also present.
Earlier, Virbhadra Singh reached the venue with his wife and his other family members along-with thousands of his supporters dancing to the tune of traditional music, blowing trumpets, beating drums and raising slogans in favour of Virbhadra Singh.
All the roads in early morning seemed to be leading towards Holly lodge where people had started gathering to felicitate Virbhadra Singh. The Venue was bustling with festive activity wherein the people thronged in from different corners of the State to be witness to the historic moment where Virbhadra Singh took oath as Chief Minister of the State for record sixth term. The people donning green Bushehri caps were seen all over the venue. Four display screens were also erected in the town to facilitate the people to view the ceremony.
Governor Urmila Singh administered the oath of office and secrecy to Virbhadra Singh as Chief Minister and S. Roy, Chief Secretary conducted proceeding of the ceremony. After the ceremony, Virbhadra Singh drove straight to State Secretariat to assume the office. S. Roy, Chief Secretary along-with all the senior officers of the State felicitated Virbhadra Singh. Hundreds of people had gathered at the secretariat to welcome Virbhadra Singh and congratulate him on becoming the Chief Minister. In addition to this employees of Secretariat also welcomed Chief Minister in his office.
Chief Minister Virbhadra Singh, after assuming the office, visited Rajbhawan and met the Governor Urmila Singh.