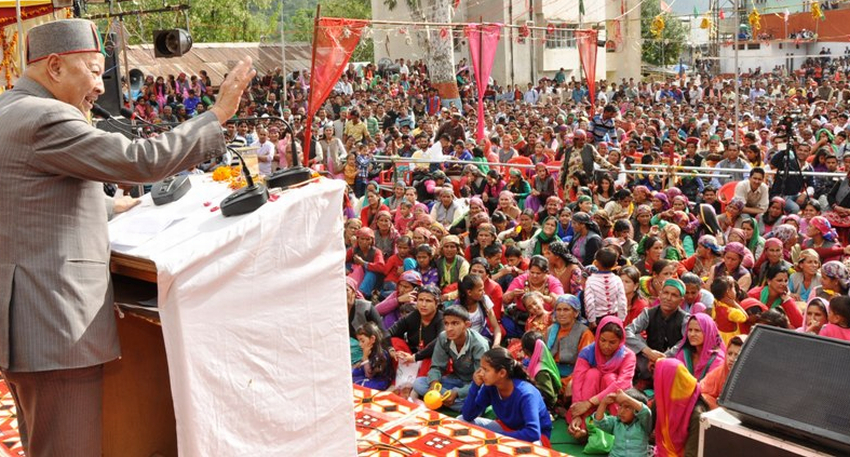 Rohru: Promising completing much debated and criticised Theog-Kharapathar-Hatkoti road, which is in dilapidated condition from past seven to eight years, by next year, Chief Minister Virbhadra Singh claimed of making consistent and sincere efforts to give relief to the commuters and affected people.
The Chief Minister, in the concluding ceremony of three-day long State level Rohru festival at Rohru today, said the World Bank had sanctioned around Rs. 333 crore for construction of road. However, the harsh weather and untimely rains had hindered the work, yet the government would ensure that it get completed by next year so as to provide much needed relief to the people of Jubbal-Kotkhai, Rohru and adjoining areas.
He said the alternative roads would also be repaired for transporting apple and other produce and government would ensure that the fruit reaches market well in time.
The Chief Minister accused Opposition leaders for making irrelevant statements only to get political mileage. He said that if previous BJP led state government had some work, then the present government would have thought of extending this road up to Dodra-Kwar.
Accusing BJP for misleading common people over the declaration of national highway, Virbhadra Singh claimed of taken up the issue with the government of India repeatedly for getting this road declared as national highway. He claimed
"I personally held meetings with the World Bank officials and it is the Congress government which pursued the matter time and again with the Centre for getting the road funded from the World Bank earlier in 2003, and now has been successful in getting this road declared as national highway",
He elaborated that Theog-Rohru road existed as State highway since 1968 but was de-notified by the previous BJP government to 'district rural road' in May, 2001.
Local MLA Mohan Lal Brakta, Vice-Chairman, HIMUDA Yashwant Chhajta, Deputy Commissioner Dinesh Malhotra along with hundreds of local people were present at the occasion.