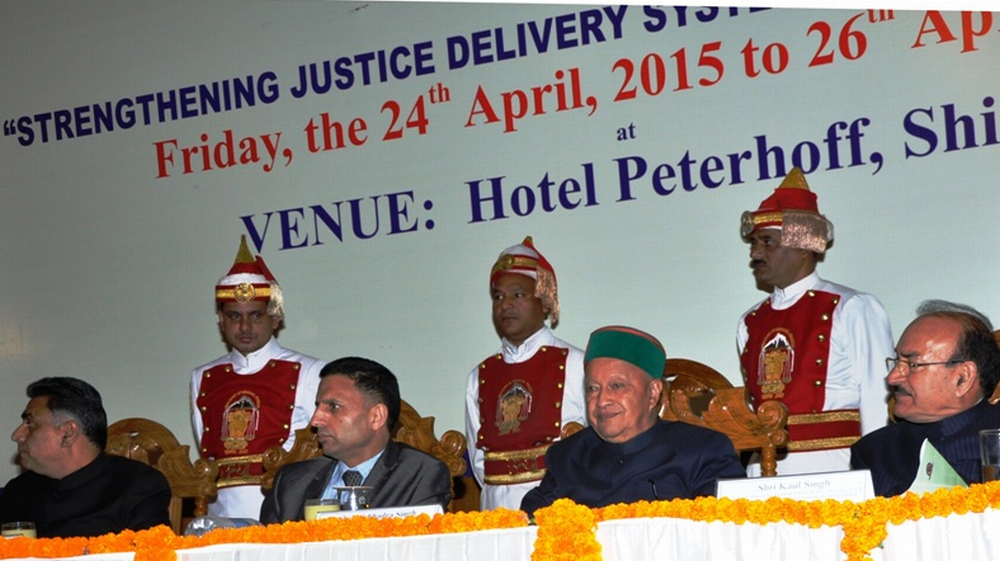 Shimla: The State Government has decided to open National Law University near Ghanahatti in Shimla in collaboration with High Court of Himachal Pradesh, said Chief Minister Virbhadra Singh in his inaugural address on the opening of three days Regional Judicial Conference of North Zone States on the subject 'strengthening Justice Delivery System: 'Tools and Techniques', here today.
He said that law students must be imparted world class education to prepare them to serve the justice delivery system in the best possible way. The Government besides taking a decision to open Law University was constructing a State of the art Judicial Academy at Shimla to ensure constant up-gradation of knowledge of the Judicial officers which will go along way in strengthening the justice delivery system in the State.
He said that Himachal High Court had evolved in-house mechanism to reduce pendency by putting the acumen and skills of the judicial officers to the best use for which it deserve accolades.
Chief Justice of Himachal Pradesh Court, Justice Mansoor Ahmad Mir, while addressing on the occasion thanked the State Government for fulfilling all the demands put forth by them. He also thanked the Government for considering its proposal for opening Law University in Shimla the land for which had been identified. He said that the Judiciary in Himachal Pradesh was one of the best as reported in report number 245 of Law Commission of India. He said that Himachal Pradesh was the sixth in ranking whose pendency was less than five years right from the sub-ordinate courts in the districts. He said that this year High Court had disposed of as many as 28000 cases and efforts were to clear backlog of the remaining soon.
Revenue and Law Minister, Kaul Singh Thakur said that State Judiciary had done a commendable job over the years and under the guidance of the present Chief Justice and stands bright and up-right in the country today.
Justice Rajeev Sharma, Judge, High Court of Himachal Pradesh said that there was no single or clear understanding of when a case should be counted as delayed. He said as e-government initiatives continue to transform the nature of India's bureaucracy and enhance the quality of government services, there is a need that Information, Communication and Technology (ICT) comes into play in judicial reform efforts.
Lokayukta, Justice L.S. Panta, Chairman, HP State Administrative Tribunal, V.K.Sharma, Justice Deepak Gupta, Chief Justice, High Court of Tripura, Chief Secretary, Vineet Chaudhary, President National Judicial Academy, Geeta Oberoi Additional Chief Secretary, V.C. Pharka, former judges of Supreme Court and State High Court, Advocate General, Shravan Dogra, President Bar Association, Yashwardhan Chauhan, senior advocates and other members of legal fraternity were present on the occasion.