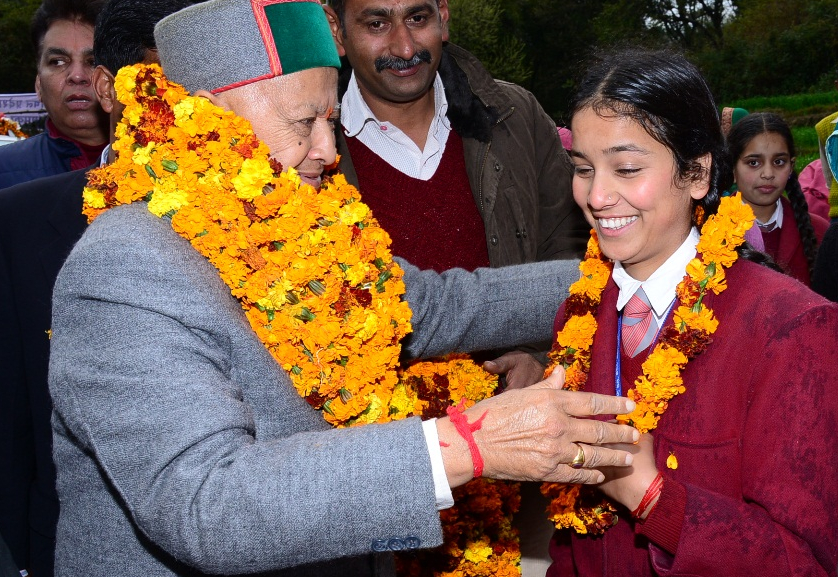 Himachal Pradesh Chief Minister Virbhadra Singh reiterated his government commitment towards providing basic education to each and every child in the state.
The Chief Minister, while addressing a public meeting at Maniara in Palampur today, said that even though there were few schools having strength of less than 20, still government was committed to go ahead with such schools as it didn't want to bereave any child of basic education.
Virbhadra Singh said the primary level education needs to be strengthened more adding that if the results of the primary schools were not upto the mark, strict administrative action would be taken against the teachers. He said that responsibility of teachers would be fixed at the primary level, adding that despite better emoluments the State Government was giving to the teachers, we except excelling performance from them and if they fail to deliver as desired, they would have to face the strict action. He said that government would also contemplate starting written exams at primary level so as to check the performance of both the children and teachers.
The Government has decided to start subjects like Maths, English and Hindi from first class, he said, adding that there was a need to tighten the noose around those teachers who loath from the responsibility. He said that the people were free to report to the Chief Ministers office any laxity on the part of the teachers as apart from the feedback from our own sources, we want the same from the people who were judge better and we need their support and participation for strengthening the basic education set-up.