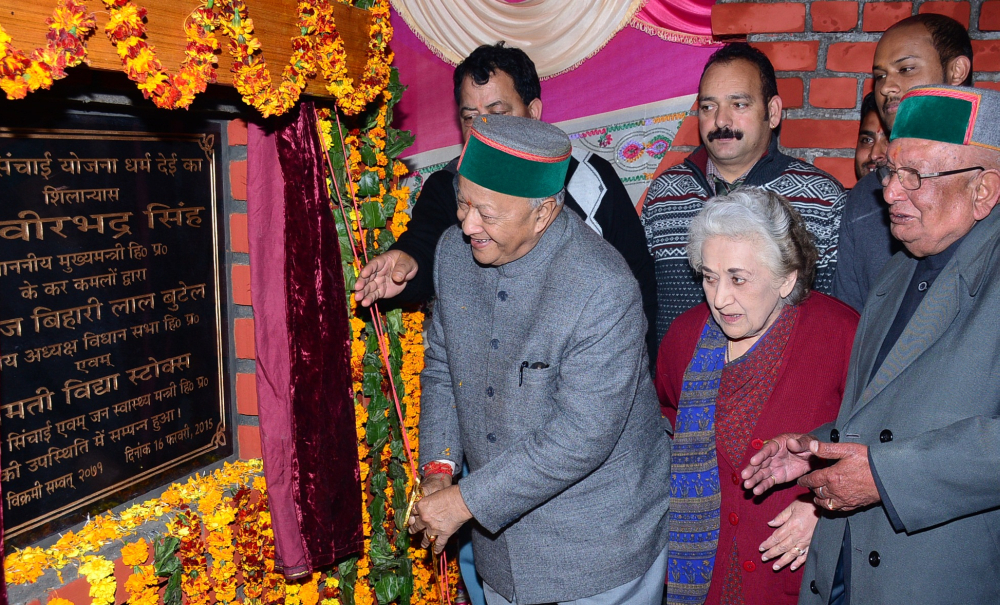 Chief Minister Virbhadra Singh, on fifth day of second leg of his winter sojourn of Kangra district, performed foundation stones and inaugurations of development projects worth Rs 38 crore in Palampur constituency.
He laid the foundation stone of the much awaited multi-storey parking complex near old subzi mandi in Palampur to cost Rs 18 crore. He also laid foundation stone of a bridge over Neugal rivulet to be constructed at a cost of Rs. 9.78 crore on Palampur-Dadh Road. He laid foundation stones of bridge over Mol Khud to cost 4.78 crore, bridge over Punn Khud to cost Rs. 1.07 crore and bridge at Lachhun on Sarsawa-Bhadrian road to cost 78.45 lakh.
The Chief Minister inaugurated steel bridge between Sungal and Odder constructed at a cost of RS 30 lakh and laid foundation stone of primary Health Centre at Maniara to cost 90.50 lakh.
He also laid foundation stone of flow irrigation scheme Dharam Dei to Dharda and its adjoining villages from Dharam Dei Khud to cost Rs. 1.07 crore besides inauguration of second phase of vegetable market at Palampur which will cost Rs. 1.35 crore. He inaugurated Educational Museum building at Palampur completed at a cost of Rs. one crore. Later, he also visited Civil Hospital Palampur.
This was also first time that the Chief Minister announced functioning of the PHC within a week in nearby Panchayat Bhawan, whose foundation stone was laid by him today till the new building was constructed.
Vidhan Sabha Speaker Brij Bihari Lal Butail, Irrigation and Public Health Minister Vidya Stokes and Transport Minister G.S. Bali also accompanied the Chief Minister during his visits to various areas of Palampur constituency.
Urban Development Minister Sudhir Sharma, Chief Parliamentary Secretary Jagjeevan Pal, MLAs Ajay Mahajan and Yadvinder Goma and Chairman Kangra Central Co-operative Bank Jagdish Sapahiya were also present on the occasion amongst senior officers of the district.