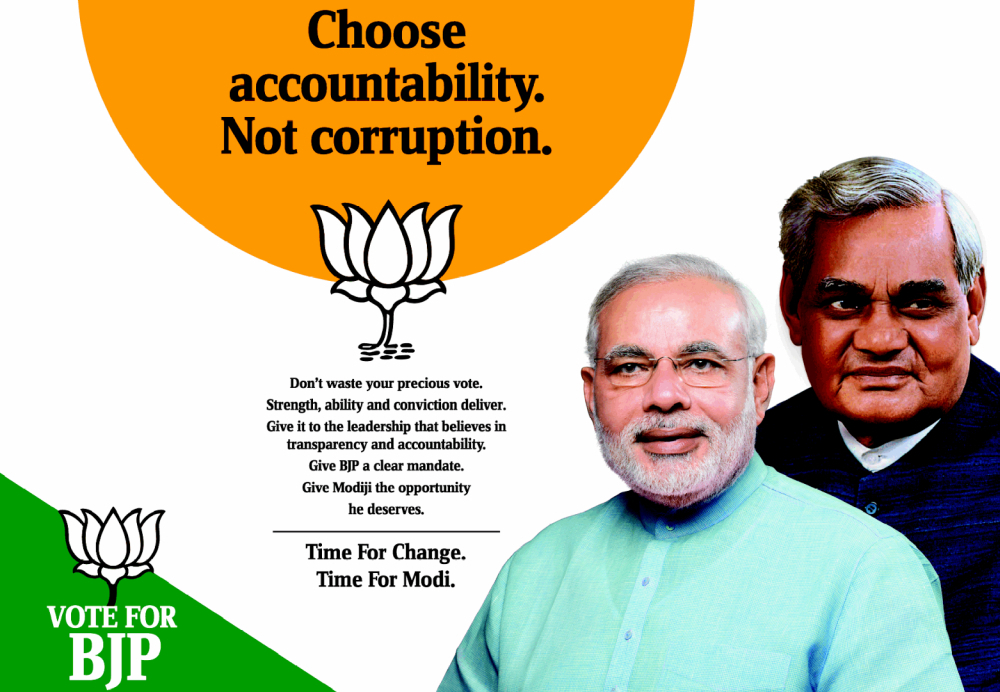 BJP that swept latest parliamentary election on the promises of accountability, transparency and corruption free political and administrative set up allegedly submitted misleading donation list to the Election Commission.
As per report prepared by Association for Democratic Reforms (ADR) and National Election Watch (NEW) on donations received by the National Political Parties, of Financial Year 2013-14, submitted by BJP to the Election Commission of India (ECI) on Dec, 2014, ADR has found discrepancy in its discloser as three "pairs" of transactions had the same cheque or demand draft number.
ADR claimed that the company A to Z Online Services Pvt. Ltd., (donated Rs 84 lakhs) and Jumana Goolam Vahanvati, (donated Rs 20 lakhs) has same the cheque or DD number. Both these companies have different addresses in Pune and Mumbai respectively.
Similarly, the donations made by Ravi Developers (Rs 7.50 lakhs) and Ravi Development (Rs 7.50 lakhs) were also made through the same cheque number (7939569). Also, the two donations made by Praveen Kumar of Rs 5 lakhs each was through the same cheque number (826592) to the BJP, but his contact details are also not given. It is to be noted that the PAN details of the first four donors was not declared in the contributions report of the party.
The contribution statement says that 'Bharatiya Janata Party' donated Rs 1 lakh while 'BJP Ward 66' donated Rs 30,000 to the party. Also, 4 donors whose complete name, address and PAN details are unavailable donated a total of Rs 2.75 lakhs to the party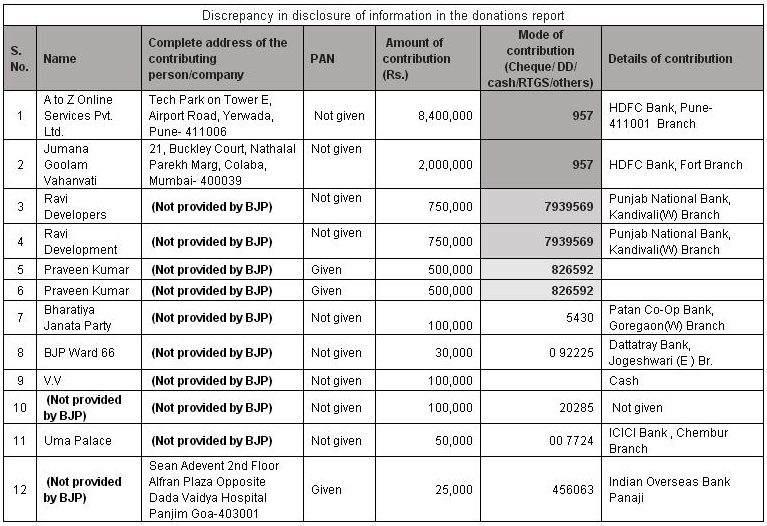 The total amount of donations above Rs 20,000 declared by the National Parties was Rs. 247.79 crores, from 2361 donations. BJP had received highest donation of Rs 170.86 crores from 1480 donators, while Congress declared Rs 59.58 crores, NCP Rs 14.02 crores and CPM Rs 2.09 crores. Surprisingly, political major of Uttar Pradesh BSP has declared that the party hadn't received any donations above Rs 20,000.
The Supreme Court, in its order in Sept, 2013, had directed not to leave any part of Form 24A submitted by political parties providing details of donations above Rs 20,000, blank. As per the Right to Information Act, full details of all donors should be made available for public scrutiny.
Delhi topping the chart of highest donation to the BJP with Rs 45.21 crores from 119 donations followed by Gujarat Rs 23.25 crores and 22.24 crores from Maharashtra.
Bharti Group's Satya Electoral Trust donated the maximum amount of Rs 41.37 crores to BJP from 3 donations followed by Sterlite Industries India Ltd which donated Rs 15 crores from 4 donations and Cairn India Ltd. which donated Rs 7.50 crores from 2 donations to the party. It is to be noted that none of the above 3 donors donated to BJP during FY 2012-13.
Bharti Group's Satya Electoral Trust was also the top donor to INC, contributing Rs 36.50 crores to the party during FY 2013-14. Satya Electoral Trust also made the maximum contribution of Rs 4 crores to NCP too during FY 2013-14.