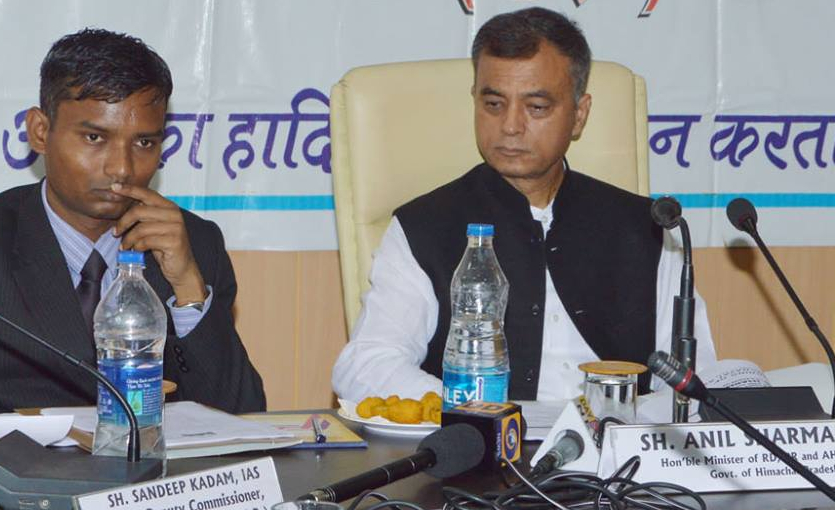 Rural Development and Animal Husbandry Minister Anil Sharma today said that the State had received the first installment of Rs. 5 crore from Government of India under centrally sponsored strengthening of existing veterinary hospital and dispensary (ESVHD) programme.
The animal husbandry department had submitted proposal of Rs. 838.70 lakhs for this projects under which 25 percent share would be borne by the State. Minister said that 51 dispensary and eight veterinary hospitals would be constructed in the State having modern equipments.
The Minister said that the department had also submitted another project amounting to Rs. 306 lakh to Mid Himalayan Watershed Development Project for installation of one liquid nitrogen supply at Semen Bank, Khaliyan in District Mandi. The Mid Himalayan Project had agreed to install this plant which would help in expending artificial insemination network to cover more breedable cattle and buffalo population to enhance milk production in Mandi and adjoining districts.
He said Government of India had also sanctioned a sum of Rs. 2387.51 lakh for the State under National Programme for Bovine Breeding and Diary Development project. This is first installment released by the Union government against a project submitted by the State amounting to Rs. 612.91 lakh to the Government of India.
Anil Sharma further added that Himachal Pradesh live stock and poultry development board would be the implementing agency of this project which would be implemented during 2014-15 onwards in next five years.
Animal Husbandry Minister said that extension of field Artificial Insemination (AI) network would be one of the prime activity and all the centers would be provided AI facilities. The existing 2094 AI centers would be strengthened by providing new equipments and refreshers training would be imparted to the existing AI workers to upgrade their skill. Besides, the conservation of indigenous breed like Sahiwal, Hill Cattle will be promoted and the infrastructure at Bagthan farm would also be strengthened.
The Minister said that 300 awareness camps comprising of 100 farmers each camp would be conducted for farmers regarding management, breeding and feeding of livestock on scientific lines. 1320 infertility camps will be organised in next five years and AI program would be monitored after identification of new calves born with application of tags.
Data regarding Breeding work will be computerized upto hospital level. He added that hundred indigenous breed's bulls for natural service would be provided to Gram Panchayat (Sahiwal/Red Sudhi) where AI was not feasible due to road connectivity or some other reason.