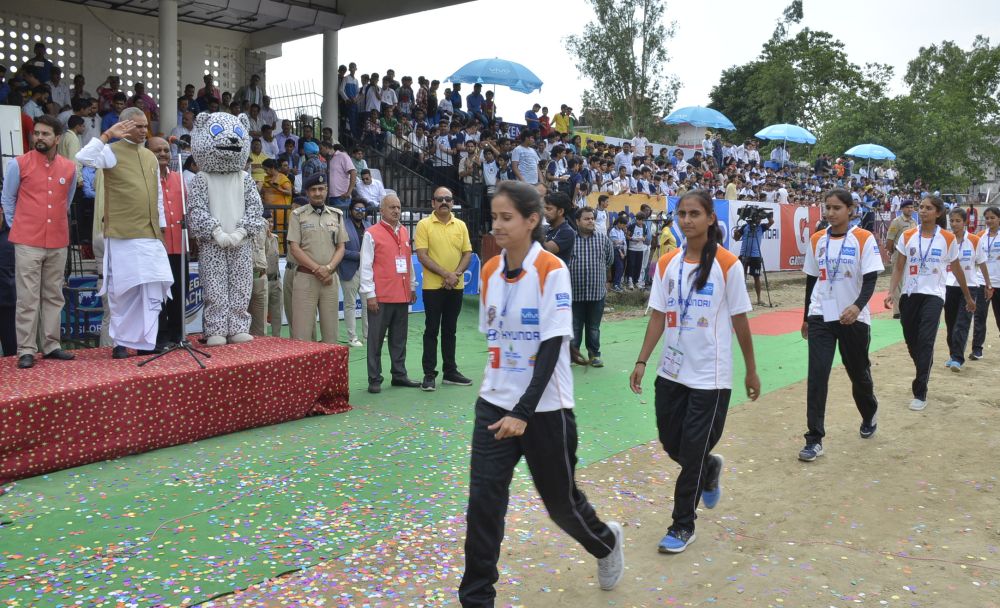 Hamirpur: Himachal Pradesh Olympic Games, first of its kind, started today at Hamirpur. Governor Acharya Devvrat inaugurated the Games after Olympic Torch was received at the town.
The international WWE wrestler Dilip Singh Rana (Great Khali) and International shooter Vijay Kumar were also present on the occasion alongwith a large number of players from the State.
Around 1100 sports persons from 11 districts of Himachal Pradesh are participating in these games. The event will be held across 11 disciplines viz. hockey, athletics, boxing, basketball, judo, kabaddi, volleyball, wrestling, kho-kho, weight-lifting and shooting. The event will culminate on 25 June.
Speaking on the occasion, Governor Acharya Devvrat expressed happiness that sports activities were being promoted at large scale in the world and the players were getting more honour.
He expressed hope that the Himachal Olympic Games would provide a suitable platform to the rural youth to exhibit their talent. He said the youth of the State were hardworking and if they were given better facilities and opportunities they would surely excel in sports and bring laurels to the State and the Nation.
The Governor appreciated the efforts of the Himachal Olympic Association for organising this event and expressed hope that it would bring fruitful results.
The President of the Association Anurag Thakur welcomed the Governor. He assured to provide platform for budding sportsperson whereby their talent can be discovered and nurtured to compete at the highest level. He assured to develop international level infrastructure so that talent could be nurture well and able to compete on all level.
Earlier, the Himachal Pradesh Olympic Games hosted the HP Olympic Torch Run, started from historic Shimla city on June 17 and received overwhelming response from the sports enthusiasts.