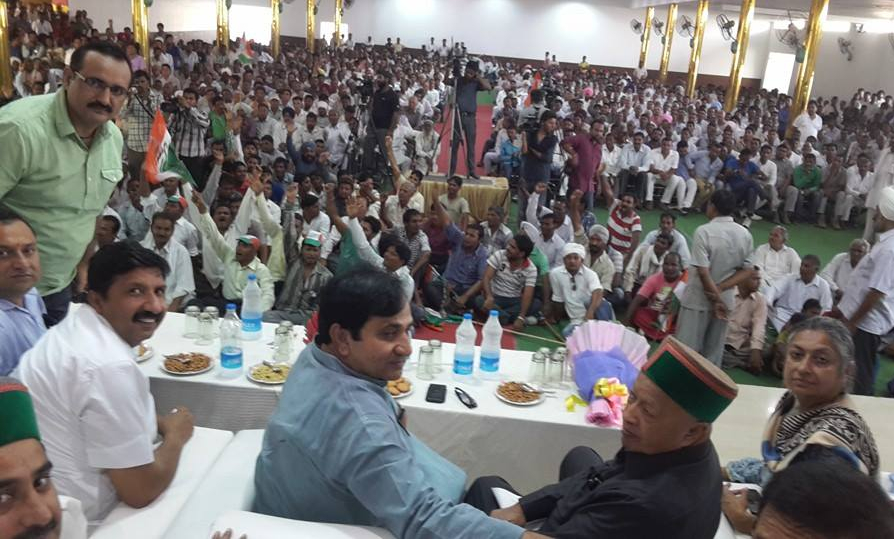 To woo Haryana electorates to vote in favour of Congress candidates in the assembly election, Himachal Pradesh Chief Minister Virbhadra Singh addressed public rallies at Barara, Ambala, Panchkula and Khuda Kalan and Mulana in Haryana.
He appealed to the people to vote for congress candidates and ensure uninterrupted development of Haryana.
Virbhadra Singh said that during the last one decade Haryana has witnessed unparallel development in all sphere and credit of this goes to the successive congress governments led by Chief Minister Bhupinder Singh Hooda.
He claimed that Hooda has ensured balanced development of Haryana and today it has emerged as most developed state of the country. He said that credit of this goes to development oriented policies and programmes of the congress government.
Targeting political opponents, Virbhadra Singh said that majority of other parties in Haryana are a group of rejected and dejected leaders, whereas Congress has glorious history and responsible for the development of the country. He urged the people to support congress candidates so that congress Government could be formed in the State for record third time.
Virbhadra Singh said that the issues during the Lok Sabha elections were entirely different form that of the Assembly and one cannot draw parallel between them. He said that the people have rejected the BJP in recently held by-elections in different states and it seems that the Modi factor has lost its sheen in just 100 days.
Himachal Chief Minister said that the people of Haryana were wise enough and would not be carried away with tall promises of the BJP. He said that Indian National Lok Dal and BJP have no future in Haryana as they have no development agenda for the State. He also campaigned for Congress candidate from Mullana Varun Chaudhry.
Senior Congress leader Asha Kumari, Industries Minister Mukesh Agnnihotri, Chief Parliamentary Secretary Vinay Kumar, Deputy Chairman H.P. Planning Board G.R. Musafir, Vice Chairman H.P. Forest Corporation Kewal Singh Pathania, Chairman H.P. Marketing Board Dr. Subhash Manglet, MLA Ajay Mahajan and Kuldeep Kumar were also present on the occasion.