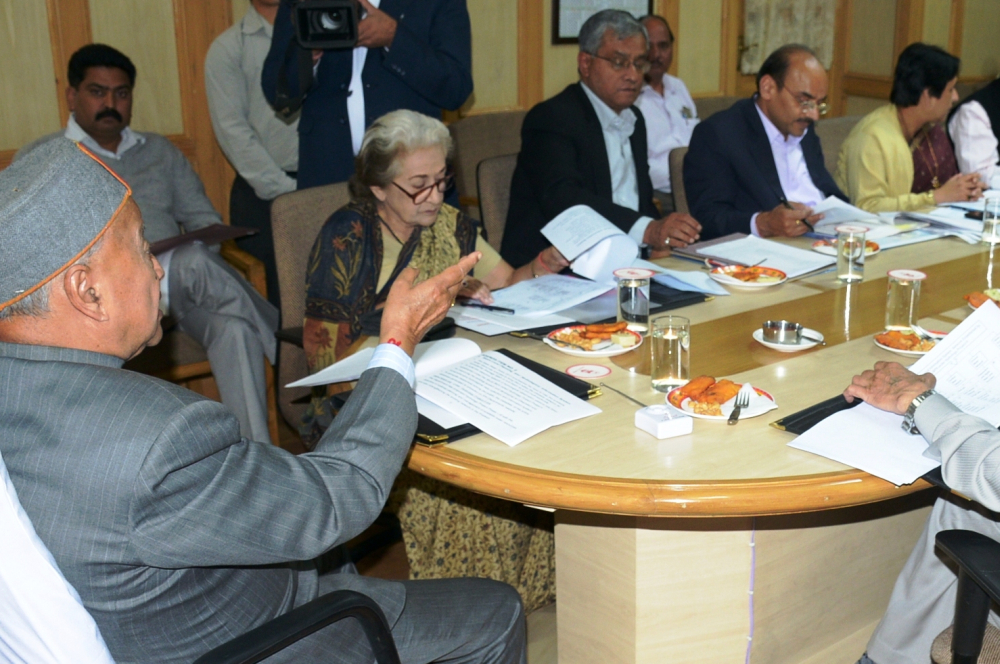 Himachal Pradesh Chief Minister Virbhadra Singh said that proper physical audit of the water harvesting structures, check dams, canals, water tanks and other similar works being undertaken by various departments would be done, and the departments would have to maintain full record of the structures and the works undertaken.
He was presiding over the third meeting of Himachal Pradesh Water Management Board here, today.
He said water would be the scarce commodity in coming times and every drop of water should be saved. He stressed upon the durability of the tanks and said that different departments were constructing the water harvesting structures which leads to overlapping of works and inefficient use of resources.
CM said it had been observed that many water harvesting structures were lying ideal with little or no water in them and the departments should not consider the construction of structures as their achievements but it had to be ensured that they were long lasting and benefiting the population for irrigational and other purposes.
He said that many rivers and rivulets of the State were usually in spate during monsoons and remain dry or with little water during winters and summers. It was during the monsoons that the water should be stored and conserved along the bank of the rivulets and nullahas for meeting the requirements in summers.
The Chief Minister said that sensing the economic benefits of such schemes, the people would be themselves responsible for maintaining the same and undertaking minor repairs works. The Chief Minister said
"I want end results and benefits to be accrued to the people and durable assets to be created"
There should also be proper de-silting of the water tanks to enhance their storage capacity after every monsoon season, he added.
The Chief Minister said that the aim of the Government was to provide better drinking water and irrigational facilities to the people and besides that every check dam structure should be numbered and complete in all respects so that we could identify them through numbers.
He said that roof top rainwater harvesting structures should be made compulsory in rural areas and field of activities of various departments be demarcated for effective implementation of water resources development, conservation initiatives and watershed development followed by physical inspections.
He suggested that it should be mandatory to construct field channels from the main canal for irrigating the land. It had been observed that major projects like Shah-Nehar had been completed but the feeding channels connecting fields had not been constructed, thus depriving people of irrigational facilities.
Citing example of Kinnaur district where numerous water tanks and harvesting structures had been constructed the Chief Minister said that focus must be on providing re-used and pure treated water to the people for irrigational and domestic purpose on the analogy of developed countries.
He said that our traditional water bodies needs to be preserved and every new project or new scheme should begin with taking into consideration all aspects. There were number of schemes of Government of India and they should be implemented with sense of responsibility and accountability and not merely for achieving the targets and numbers. He suggested that more hand-pumps should be installed in water scarcity areas and proper survey of the underground water availability should be done before installing the same.
Irrigation and Public Health Minister Vidya Stokes, Chief Secretary P. Mitra, senior officers and non- official members were also present on the occasion amongst others.