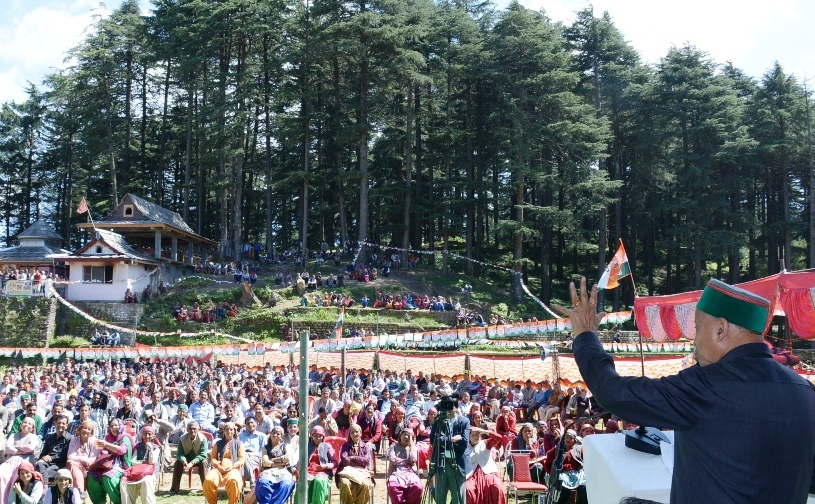 Himachal Pradesh Chief Minister Virbhadra Singh announced to bring Nankhari under Special Area Development Authority (SADA) to ensure planned development of the area with proper sewerage system and other basic facilities.
He announced it while addressing a public meeting at Nankhari here today. CM further added that the Sub divisional Magistrate (SDM) Rampur would be the chairman of the committee and all the designs/maps pertaining to construction would be passed by him.
Chief Minister said that a metalled road would be constructed from Nankhari till the college at a cost of Rs 20 crore and in terrace pattern. He also promised to fill all functional posts of the teachers in the schools.
Virbhadra Singh also raised concern over the encroachments on government land and cautioned that the forest Land should not be misutilized for personal benefits.
Chief Parliamentary Secretary Nand Lal while speaking on the occasion said that Tikkar-Kahamadi road work had been awarded and the work on it will soon commence.
Earlier, Chief Minister inaugurated Forest Complex constructed at a cost of Rs 45 lakh at Nankhari and also laid foundation stone of Government Degree College, Nankhari to be constructed at a cost of Rs 20 crore.
Chairman Kailash Federation Brij Lal, Deputy Commissioner Dinesh Malhotra, Superintendent of Police D.W Negi and other senior officers of the district were also present on the occasion amongst others.