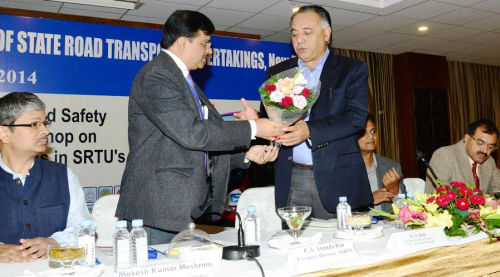 Transport is among the most vital sectors and it should be included in Educational Curriculum at school level so that the younger generation understands the importance of road safety, transport discipline and related aspects which would help in improving the overall transport scenario.
This was stated by Transport Minister G.S. Bali after inaugurating the National Seminar on Road Safety and Best Practices Workshop on Construction of Bus Bodies in State Road Transport Undertakings (SRTUs) here today. The National Seminar was organized by Association of State Road Transport Undertakings (ASRTU), New Delhi and Himachal Road Transport Corporation (HRTC).
Bali said that road safety was emerging as major social concern in the country and people should be sensitized about various facets of road safety to reduce majority of road accidents. A mass campaign should be launched in this direction at the earliest and Non Governmental Organizations (NGOs) could be involved in such educational campaigns, he added.
He said that roads were the main means of transport in Himachal Pradesh and concerted efforts should be made by transporters, bus body builders, Public Works Department, Police and other stakeholders so as to minimize the road accidents. All these stakeholders should be part of such conferences and their suggestions were important in formulating long term policies. He said that safety of the pedestrians was of paramount importance. He said that needs of hilly areas were entirely different from that of plains and policies for mountainous regions should be formed keeping in view the topographical and other aspects of these regions. He asked for forming a working group for solving the problems of hilly regions.
Transport minister said that he had urged Union Surface and Transport Minister Nitin Gadkari to set up crash barriers on roads located at a height of 4000 feet and above and also suggested comprehensive amendments to the Motor Vehicles Act. He said that a new detailed Transport Policy for the State was ready and it will be notified shortly.
Bali said that concerted efforts were being made by the department to provide best services to the people. A decision had been taken to open three new modern workshops at Shimla, Kangra and Mandi districts. These will have modern tools for repair and maintenance of HRTC buses. Corporation was also upgrading its 27 workshops and Rs. 70 crore was being spent for the purpose. Transport department had also decided to spend 50 percent of the challan fee on road safety works. He said that transport department had been directed to undertake regular medical checkups of drivers and drivers were being trained in latest vehicle technology. Efforts were also afoot on rationalization of bus routes and Corporation was envisioning cashless travel by making use of modern chip based cards.
Transport Minister said that bus body design also play an important role in mileage and safety aspects and for construction of bus bodies with state of the art facilities, ASRTU should work with manufacturers. He said that the deliberations in the seminar will help in achieving better road safety and in forming better policies.
K.Sanjay Murthy, Principal Secretary, Transport said that training on road safety, safe driving etc. was being provided up to sub-divisional level in the state.
Dr. R.N. Batta, Managing Director, HRTC while welcoming the dignitaries detailed about the conference and activities being undertaken by the ASRTU and HRTC. He said that the conference would help in developing policy modules to minimize accidents. He said that experts from UP, Punjab, Haryana, Rajasthan, Chandigarh, Delhi and other states and from IIT Delhi and National Highways Authority of India were participating in the seminar.
P.S. Ananda Rao, Executive Director, ASRTU, Mukesh Kumar Meshram, MD, Uttar Pradesh SRTC and O.P. Shemar, Advisor in Union Ministry of Road Transport also spoke on the occasion. S.K. Patra, Director (Technical), ASRTU proposed vote of thanks.