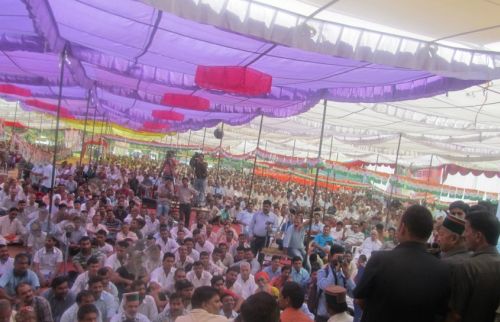 State Congress president Virbhadra Singh challenged Chief Minister Prem Kumar Dhumal to come out within three days with details of the alleged steel scam.
While addressing a Congress rally at Kothipura, Virbhadra Singh firmly denied that any steel scam took place during his tenure as Minister of Steel at the Centre and asked Dhumal to check facts before making baseless allegations.
Virbhadra Singh lashed out at the BJP for making unnecessary hue and cry over foreign direct investment (FDI) in retail and said all states were free not to bring FDI in. He stated that BJP's protest against FDI is politically motivated and is trying to mislead the common people for votes only. He said the decision on FDI would only apply to cities with a population of 10 lakhs or more and there was no scope for it in Himachal Pradesh.
He said he had written to the Prime Minister and the Congress president that a special concession of 12 subsidised liquefied petroleum gas (LPG) cylinders be given to Himachal Pradesh to avoid the destruction of forests. He said the Congress, if voted to power, would give three more subsidised LPG cylinders per household. He assured employees that the Congress would give Punjab pay scales and allowances in Himachal Pradesh.
He said Dhumal had announced concessions worth Rs 1,500 crore in the last 15 days in desperation. He appealed to voters to ensure a massive election victory for Ram Lal Thakur, virtually declaring Thakur the candidate from Naina Devi.
Party's national general secretary and state affairs in charge Virender Chaudhary said the Congress would return to power in the elections. He claimed that the BJP had virtually sold the state to outsiders and flouted rules and regulations to oblige big industrialists and land sharks.
Former MLA and senior Congress state leader Ram Lal Thakur said the BJP government had not only ignored Bilaspur district in matters of development, but had stopped all major benefit schemes and projects started during the previous Congress regime. He said the BJP could not solve the problems of lakhs of Bhakra Dam oustees even though it had assured them that it would solve the problems within six months of coming to power.
He alleged that the government had stopped work on the Rs 32-crore Bhagh-Chhal and the Rs 52-crore Bilaspur-Beri Dadollan bridge projects. He claimed that the BJP had allotted thousands of acres to big industrialists from outside. He added that Saraswati Vidya Mandir schools were allotted land in every sector of the town.
He said all schemes which were being inaugurated by the Chief Minister and other BJP leaders had been initiated before the party came to power or were halfway through by then.