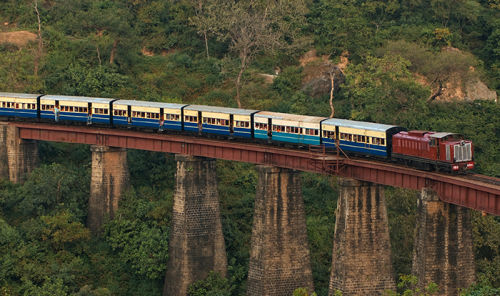 New Delhi: Solar power plants have been provided on top of two narrow gauge trains plying on Pathankot-Jogindernagar route in Kangra Valley section and Kalka-Shimla section on trial basis. On evaluation of trial and cost benefit analysis, further study of economic viability will be undertaken.
Minister of State for Railways Manoj Sinha in written reply to a question in Lok Sabha today, said the Indian Railways proposes to install solar power plants of about 8.8 Mega Watt (MW)-capacity at railway stations, railway office buildings and level crossing gates throughout the country under railway funding. These include; Provision of 10 KWp solar PV modules each at 200 stations under various Zonal Railways, provision of total 4.05 MWp Solar Photo Voltaic (SPV) at roof top of 21 railway office buildings and provision of total 1.3 MWp capacity Solar Photo Voltaic (SPV) plants at 2000 Level Crossing gates on Indian railways.
Indian Railways has proposed to harness solar energy by utilizing roof top space of railway stations, other railway buildings & land including through the PPP mode as per the feasibility, the modalities of which are being worked out.
The estimated cost of about 8.8 MW-capacity for projects of providing solar panels under railway funding for works mentioned above is about Rs. 100 crore. The benefits of these projects are reliable power supply particularly at remote locations and saving in diesel due to reduced running of Diesel Generators.