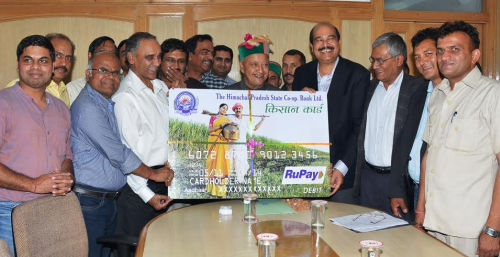 Chief Minister Virbhadra Singh today launched the ATM RuPay KCC Debit Card of Himachal Pradesh State Co-operative Bank (HPSCB) for its customers and the Bank has become the first Co-operative Bank in the country to do so.
After launching the ATM card the Chief Minister said that the customers of the State have confidence and faith in the bank and more such branches require to be opened in the far-flung and remote areas of the State to benefit the people living therein. He said that it would be more beneficial for the farmers as now they won't have to visit the banks and can meet out their requirements for the purchase and maintenance of agricultural inputs as fertilizers, fungicides, pesticides etc.
Chief Minister also congratulate the HPSCB for adopting the Core-Banking Solutions (CBS) and providing efficient services to its customers and farmers through RTGS/NEFT resulting in prompt services in far flung areas.
The Bank, being the 'Bank of the State and For the State' is committed to work in the larger interest of the agriculturalist, horticulturalists, employees etc said he, adding that this was the only bank in the country having maximum reach in rural areas of the State. "I was informed that the Bank was going to open four New Branches and Nine Extension Counters in different corners of the State, for which I congratulate the Bank authorities.
Speaking on the occasion, Chairman HPSCB Harsh Mahajan informed that the Bank through its more than 207 online branches and extension counters was extending prompt and in-interrupted services to the people and particularly the farming community and horticulturalists.
He revealed that besides being the first bank in co-operative sector in the country to launch ATM card, the services rendered by the Bank in the field of financial inclusion has also been acknowledged at National level for which the Bank has been adjudged as the Best in the Country and was given Special Award on 20th of this month at Ahemdabad.
Mahajan said that the four new branches of the Bank were coming up at Golthai in Bilaspur, Gatadhar in Sirmaur, Rajnagar in Chamba, Mandal in Shimla besides nine extension counters at Kudu in Shimla, Nanawan and Kothipura in Bilaspur, Bir Road Ahju and Ropri in Mandi, at Obri and Sarol in Chamba, Kamlanagar and Matiana in Shimla for which license has been granted by Reserve Bank of India in favour of the Bank.
Earlier, the Chief Minister was presented a Cheque of Rs. 21,65,760 towards its dividend for the year 2012-13 and Rs 51 Lakhs towards the Chief Ministers Relief Fund by Chairman, HPSCB Harsh Mahajan.
The Chief Minister also distributed the RuPay KCC Debit Card to valuable customers of the Bank.
P. Mitra, Chief Secretary, V.C. Pharka, Additional Chief Secretary, R.D. Nazeem, Registrar Corporative Society, Amitabh Awasthi and other senior officers of NABARD and RBI were present on the occasion.