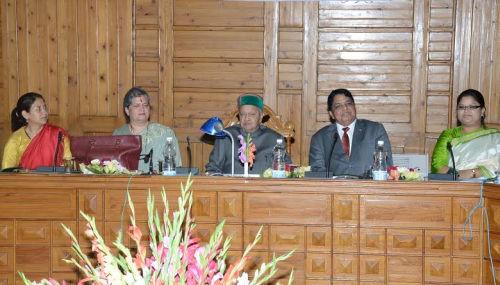 Women were the most important pillar of our society and had the right for respect and honour and they should be always held in high esteem, said Chief Minister Virbhadra Singh while presiding over a day long seminar organized together by National and HP State Women Commission here today.
He said that State Government was committed for welfare of women folks and numerous measures had been initiated for providing them the status at par with their men. He stated that empowering women socially and economically was the aim of the Government. He said
"It would be difficult for India to prosper as a Nation till the women are not given adequate place and respect which they deserve in the Society",
He stressed the need for safety of women as they were still feeling atrocities. He said the gender gap between the man and women needs to be filled, so as to make women socially and economically well-off.
Social Justice and Empowerment Minister, Col. (Dr.) Dhani Ram Shandil while speaking on the occasion said that women empowerment and growth was the most essential issue of today's world. He said that the Socio-economic and geographical condition of the Himalayan region also sometime seem to be responsible for gender inequality.
Chairperson, National Commission for Women, Mamta Sharma, while speaking on the occasion stressed the need for Technological empowerment of women besides Socio-Economic Equality in Himalayas. She said that growth and development of women was also important and educating them was the basic need. She said that it was a matter of concern that we were adopting the western trends as a part of our routine whereas the need of the hour was to preserve our culture and customs.
Member, National Commission for Women, Hemlata Kheria also spoke on the issues of women rights and development needs in mountain regions. She also focused her speech on other important issues of Health and Education of women.
Earlier, Chairperson Himachal Pradesh State Commission for Women Janeb Chandel honoured the Chief Minister and also detailed about the steps being taken by the commission for women welfare. She demanded to include more women in Tribal Advisory Council and thanked the Chief Minister for taking steps effectively for empowering women.
Anita Sharma, Chairperson Block Congress Committee, Shimla (Rural), Namita Roshan and Shayama Dogra, Members, National Commission for women, R.D Dhiman, Principal Secretary, Social Justice and Empowerment and other women folks and NGOs working for growth and empowerment of women were present on the occasion.