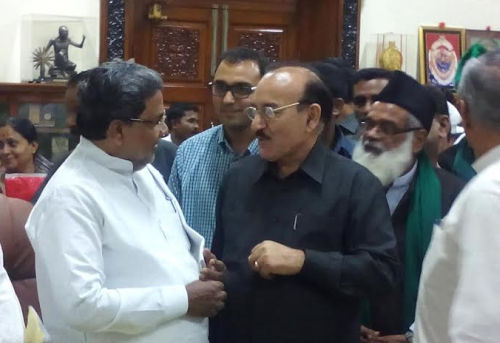 Health and Family Welfare Minister Kaul Singh Thakur met the Karnataka Chief Minister Siddaramaiah and appreciated the efforts made by the Karnataka Government for tobacco control in the larger interest of public health. Kaul Singh Thakur is on a visit to the state on an invite by UT Khader, Minister of Health and Family Welfare, Government of Karnataka.
There was a high level meeting organised at Vikas Soudha where both the ministers interacted with a delegation of experts that included representatives from World Health Organization (India), the Union Against Tuberculosis and Lung Diseases, the World Lung Foundation, the Campaign For Tobacco Free Kids, and the Bloomberg Philanthropies. Experts from Karnataka also participated. The group discussed tobacco control progress in Karnataka and the way forward.
Kaul Singh Thakur appreciated the measures initiated by the Karnataka government to control the menace. Thakur said
It would be good if the Karnataka government takes the success of Gutka ban forward and issue ban orders on sale of chewing tobacco as had been done by Himachal and six other States
Health Minister said similar efforts were already put in Himachal Pradesh and there were plans to further increase Value Added Tax (VAT) on tobacco products. He pointed out that there was a need to raise taxes on cigarettes and chewing products. He said that Himachal had imposed ban on loose cigarettes in his state making Himachal the first state to ban loose cigarettes.
Speaking on the occasion U T Khadir thanked his counterpart and said "we are inspired by the works of Himachal Government in the field of tobacco control. We shall honestly try to implement some of the good measures from there".