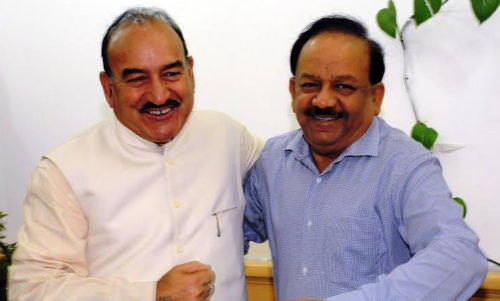 Health and Family Welfare Minister Kaul Singh Thakur said that a campaign would be launched upto village level in the State to aware the people about the ill effects of tobacco consumption.
He was presiding over the second National workshop on 'Implementation of MPOWER Policy in India' being organized by International Union against Tuberculosis and Lungs Disease here today.
He said that the campaign would focus on showing slides and pictures carrying photos of people suffering illness due to tobacco consumption besides telling the stories of the victims of tobacco intake to inspire the people especially youth against the use of tobacco products.
Thakur said that more than 3000 gram panchayats of the State had passed resolutions to participate in effective tobacco control campaign. Himachal was the first State in the country to ensure effective ban on advertisements of the tobacco products. He said that Education Department could also play an important role by motivating the school children to aware their parents about the ill effects of tobacco products.
Health Minister said that State Government had banned the sale, storage and distribution of Gutkha, Khaini etc. in the State. He said that all the educational institutions in the State were complied with provisions of Cigarettes and Other Tobacco Products (Prohibition of Advertisement and Regulation of Trade and Commerce, Production, Supply and Distribution) Act, 2003 (COTPA) and they had displayed the signage's to ban sale of tobacco within 100 yards. He said that Himachal had achieved the smoke free status and it was also first State in the country to ensure ban on sale of tobacco products without not carrying statutory warning on the packets.
Thakur said that Government will shortly impose a ban on the sale of loose cigarettes as the cigarettes and fine will be imposed on the violation. The Government was also mulling to enhance VAT on tobacco products, Minister added.
Health Minister said that State Government was committed to provide specialized health services to the people of the State at their door-steps adding that doctors and para-medical staff were being appointed in the health institutions on priority basis.
Dr. Dhirendra N. Sinha, Regional Advisor, WHO, South East Asia Region, Dr. Mira Aghi, Behavioral Scientist and Dr. Rana J. Singh, Senior Technical Advisor, the Union South East Asian, New Delhi also spoke on the occasion.