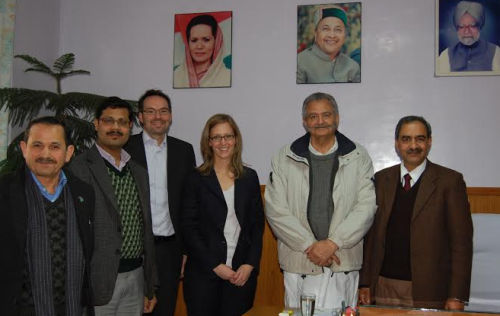 To discuss the funding of 191 MW Thana Plaun Hydroelectric Project envisaged on river Beas in Mandi district, a three member delegation from German Development Financial Institution, KfW comprising of Eva Maria Zenk, Dr.Thilo Stefan Heiberger and Binitesh Kumar met here today with MPP & Power Minister Sujan Singh Pathania. SKBS Negi, Chairman-cum-Principal Secretary MPP & Power, D.K Sharma, Managing Director H.P Power Corporation Limited were also present.
The minister revealed that KfW has agreed to finance Rs.1700 crore for the project under "Himalayan Development Programme" in addition to its existing loan of EURO 150 million for electro-Mechanical works of Shongtong Karcham Hydroelectric Project. He said that a grant amounting to Rs. 13 crore would be provided for carrying out technical studies of Thana Plaun Hydroelectric Project.
The Power minister urged the delegation to expedite the process of funding for this project as KfW has evaluated the techno-economic aspect of this project. The International Consultant already appointed by KfW has already established feasibility of the dam and other project components.
The Himachal Pradesh Power Corporation is executing 191 MW Thana Plaun Hydroelectric Project. The State Government would provide 20 percent equity for the construction of Thana Plaun hydroelectric project. A 107 meter high and 221 meter long concrete gravity dam would be constructed for this project which would have a storage capacity of 4.5 crore cubic meter.
The detailed project report has been prepared by HPPCL and has been submitted to Central Electricity Authority and Central Water Commission for Techno-Economic Clearance. The construction of this project would start in 2015 and would be completed in four years. The project on its completion would generate 69 Crore units per annum and would earn Rs.276 crore annually to the State Exchequer.