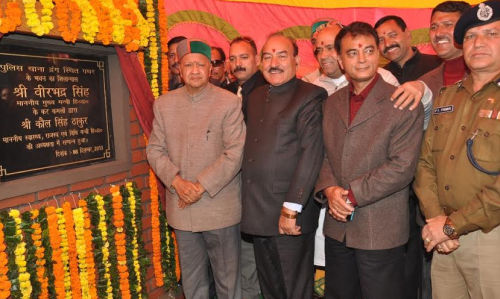 Chief Minister Virbhadra Singh claimed that successive Congress governments in the State and blessings of Central leadership, the State of Himachal Pradesh was making rapid strides in various fields of development despite the fact that difficult geographical condition the State requires more funds for creation of infrastructure. The credit of this goes to.
Chief Minister said it while addressing a public meeting at Government Senior Secondary School ground Padhar in Mandi District today after laying foundation stone of Mini Secretariat building at Padhar to be constructed by spending an amount of Rs. 10 crore. He also laid foundation stone of police station building at Padhar to be constructed at a cost of Rs. 1.50 crore.
Virbhadra Singh said that Himachal Pradesh has earned name in vital sectors like roads, education and health. He said that today even remotest area of Dodra Kwar in Shimla district, Chauhar area of Mandi district and Shillai area of Sirmour district were connected by road and the State has an educational institution within the radius of 1 to 2 kilometer. He said that the previous BJP Government during its tenure de-notified 149 schools, but the present Government soon after coming to power reopened all these schools. He said that State Government was providing free transport facility in HRTC buses to school children from home to school and back home. He said that the Congress Government believes in balanced and all-round development of the State, but the BJP leaders were trying to divide the State on regionalism to gain political mileage.
Chief Minister said that it was the Congress Government that made primary education compulsory in the State and also adopted plus two patterns for better education. He said that this ensured better education to the youth of the State and today Himachal Pradesh is one of the highly literate State of the country.
Virbhadra Singh said that rationalization of boundaries of National Parks and Wildlife Sanctuaries was done and 775 villages had been excluded, thereby benefiting a population of over one lakh in the State. He said that out of these, 88 villages are from Narbu range of Chohar area of Mandi district. He said that it was during his earlier tenure that hunting was banned in the State. He urged the people to protect wild life since it was vital for natural balance.
Chief Minister said that there was vast scope of cultivation of off season vegetables, floriculture and other cash crops as the same offers better opportunity to strengthen rural economy. He said that although there was bumper apple crop this, year but the excessive flow of apple to market resulted in fall in the apple prices. He said that the State Government would open cold stores in different parts of the State so that farmers could regulate flow of crop to market and get better marketing opportunity for their products. He said that the State Government was implementing a Rs. 1000 crore Swan river channelization project in Una District. In addition to this Rs. 387 crore Shah Nehar project and Rs. 97 crore Sidhata project have been completed in Kangra district, he added.
Virbhadra Singh said that the present State Government was conducting inquiry into the misdeeds of the previous BJP government as the Government was duty bond as same was part of the charge sheet filed by the Congress before elections. He said that he was not even a member of the Committee that prepared this charge sheet. He said that no body was above law and the Government would also ensure that the guilty are brought to the book, but at the same time innocent need not to worry as the Government does not believe in witch hunting.
He announced upgradation of high school Nasloh, Haton, Tehri, Jatingri and Baggi to Senior Secondary School, upgradation of Government Middle School, Khinni, Seun, Taper and Banaul to High School besides opening of Primary School at Kasana, Kuljan, Bhraylan and Rupru. He also announced opening of veterinary dispensary at Nalan and Ruhaj. Chief Minister also announced Sub Tehsil for Tikkan which would have 15 Patwar circles. He also announced that science classes would be started in Government College Padhar from next academic session. He also announced that two JCBs would be provided for Public Works Division Padhar for maintenance of roads.
Health Minister Kaul Singh Thakur said that it was during the tenure of the congress government that Padhar was made Sub Tehsil and thereafter upgraded to Tehsil. He said that the Congress government thereafter opened the office of SDM alone with adequate staff here but the BJP did nothing to strengthen this office but instead shifted the SDM from this place. He said that when the matter was taken with the Government time and again the SDM was posted here before elections without staff. He said that now the present government would ensure proper staff to this office. He thanked the Chief Minister taking out 88 villages of Narbu range of Chohar area of Mandi from century area. He said that the State Government has decided to appoint 200 doctors in Health department. He said that out of these 140 have been recruited and the remaining would be recruited soon. He said that Rs. 140 crore have been provided by the Centre Government for strengthening of Indira Gandhi Medical College Shimla and Rs. 40 crore for strengthening cancer hospital at Shimla. He said that Rs. 150 crore was being spent on construction of new block in Tanda Medical College. He said that India Today Magazine in its recent survey has ranked Himachal Pradesh as No. 1 state in Health Sector.
Excise and Taxation Minister Prakash Chaudhary said that the State Government has enhanced social security pension from Rs. 450 to Rs. 500 besides clearing all pending cases of social security pensions. He said that Rs. 1000 to Rs. 1500 was being provided to eligible youth for their skill upgradation under Skill Upgradation Scheme. He thanked the Chief Minister for starting Rewalsar College and opening Tehsil at Ner Chowk.
Rural Development and Panchayati Raj Minister Anil Sharma said that the Government of India has sanctioned Rs. 84 crore for Mandi town for providing 24 hour water supply to the town and Rs. 28 crore have been provided for providing underground service duct for various public service like cable, electricity, water etc.
Drang Congress Committee President Joginder Guleria welcomed the Chief Minister while District Congress Seva Dal President O.P. Thakur proposed vote of Thanks. Former Chief Parliamentary Secretary Tek Chand Dogra, Chairman Land Development Bank Shiv Lal, Divisional Commissioner Mandi Onkar Sharma, Inspector General of Police P.L.Thakur, Deputy Commissioner Divesh Kumar, S.P. R.S. Negi and other senior officers were also present on the occasion.