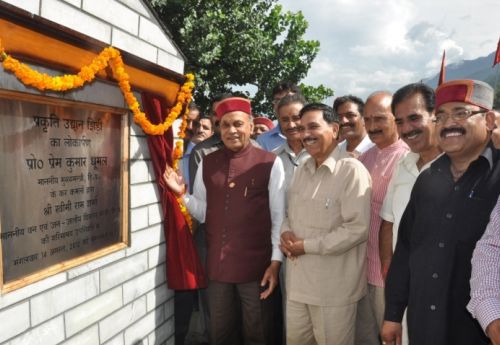 Chief Minister Prem Kumar Dhumal today dedicated Nature Park at Jhidi, on bank of river Beas adjoining the boundary of Kullu and Mandi districts.
Chief Minister said that the park constructed on the roadside would attract tourists in a big way and they would be able to enjoy the natural beauty of the area. He congratulated the Forest Department and district administration Mandi for setting up the Nature Park. He said that by setting up the Nature Park, an effort had been made to aware the people for preserving the environment and their participation for the same.
He said that the park would be an additional attraction for the tourists visiting Kullu valley and would certainly help in promotion of various tourism activities. He stressed the need for paying special attention for maintenance of the park so that it could be beautified more.
Khimi Ram, Forest Minister detailed out the facilities available in the park for the tourists. Ravinder Singh Ravi, Irrigation and Public Health Minister, Gobind Thakur and Kishori Lal, MLAs and senior officers were present on the occasion.