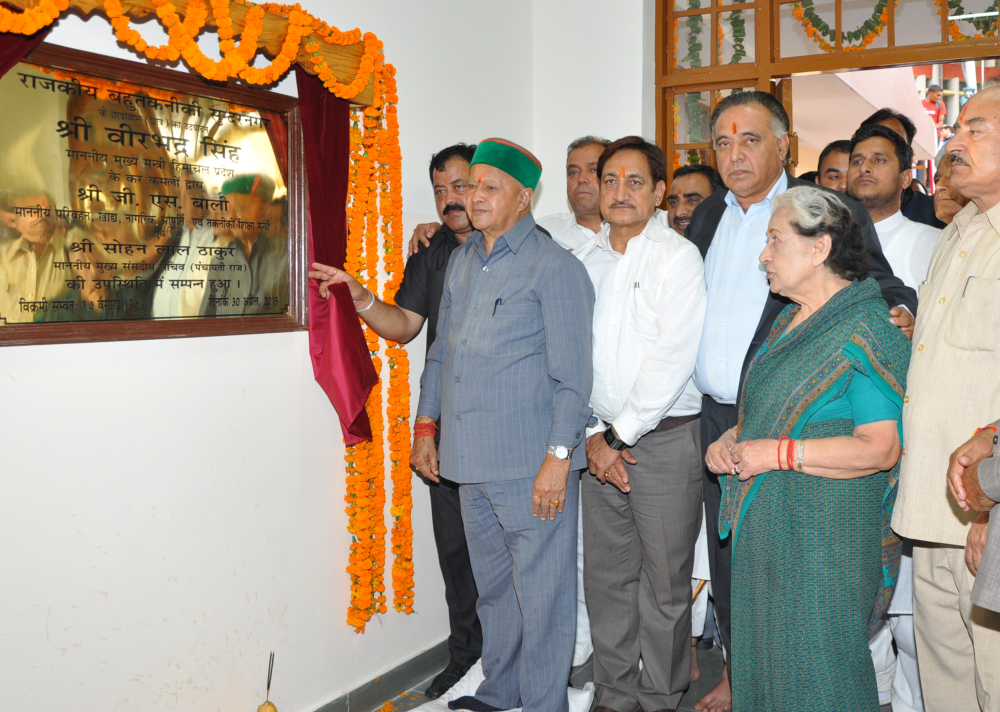 Chief Minister Virbhadra Singh on second day of his visit to Mandi district, laid foundation stones of Rs. 5.87 crore of Fire Station at Mandi, Rs. 2.25 crore lift water supply scheme Chhaneri, Nehra etc. in Gram Panchayat Palahota in Nachan assembly segment, Rs. 3.03 crore augmentation/extension of lift water supply scheme Kalouhad Dedru and Thara in Gram Panchayat Kalouhad.
He inaugurated Rs. 1.86 crore building of Vocational Training Improvement Project (VTIP) Block of Industrial Training Institute (ITI) Mandi besides Rs. 4.50 crore ITI in government sector for persons with disabilities at Sundernagar.
While addressing gathering at Palahota, the Chief Minister announced upgradation of middle school, Palahota to high school and Sainji high school to senior secondary school. He also announced a sum of rupees two lakhs for leveling the school ground of middle school Palahota.
He said that a total of 17 irrigation schemes worth Rs 22.29 crore were being implemented in Nachan assembly segment and the work on three irrigation schemes amounting to Rs 65.50 lakh were in progress.
Later, the Chief Minister inaugurated Rs. 86.74 lakh Him Hatchery building at Sundernagar, office of district manager of HP State Co-operative Bank at Sundernagar, Rs. 58.17 lakh Agriculture Rest House and Rs. 3.56 crore boys hostel of Sundernagar Polytechnic. He laid also foundation stone of Police Station at Sundernagar to be constructed at a cost of Rs. 5.16 crore.
Chairman, H.P. State Cooperative Bank Harsh Mahajan presented a cheque of Rs 51 lakh to the Chief Minister for CM Relief Fund.
Cabinet Ministers Vidya Stokes, Kaul Singh Thakur, G. S Bali, Sujan Singh Pathania, Anil Sharma and Prakash Chaudhary along with many congress leaders were present among others.