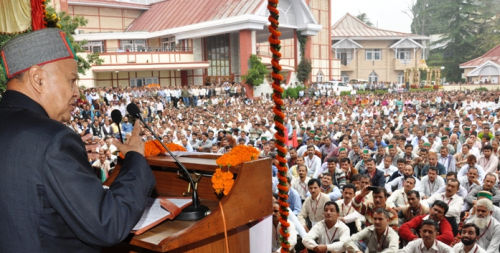 Shimla: Chief Minister Virbhadra Singh said that few Districts, Sub-Divisions and Tehsils headquarters were electrified when Himachal Pradesh was formed but all the villages were electrified way back in 1987-88 in the State. Lauding the role of employees of Himachal Pradesh State Electricity Board, he said that it was made possible due to their sincere efforts who worked hard despite of tough terrain and climate.
Virbhadra Singh was speaking at the State level Convention of H.P. State Electricity Board Employees Union (HPSEBEU) at Peterhof today. He said that overall development of the State was the prime objective of the Government. He said that the State Government had safeguarded the interests and ensured the welfare of the employees who play an important role in development. He said that the Congress Government does not believe in discrimination with employees and had maintained cordial relations with them in order to provide clean, transparent and effective administration to the people of the State.
Chief Minister said that 672 functional posts in the HP State Electricity Board would be filled up during the current year, which include 315 posts of T-mates, 86 posts of Junior Engineers, 100 posts of Computer Operators and other functional posts of SDO's, Lineman, Electrician, Sub-Station Attendants, Junior Draftsman's, Accountants, Account Officers, Steno-typists and Law Officers. Besides during the next two years, 650 functional posts in each year would be filled up, he added.
Virbhadra Singh said that earlier HPSEB was one entity but due to change in norms at National level its diversification was made and he was never interested in it. But it happened during the successive Governments regime and now the Generation and Transmission were separate units and we have to work accordingly as per the changed scenario. He said that recently he visited the Lahaul-Spiti, Pangi and Kinnaur tribal areas where there was need for the improvement in electricity supply infrastructure. He said that now the emphasis was given to make further improvement to provide reliable and quality power supply in all areas of the State.
Chief Minister said that the 1500 MW Nathpa Jhakri Project was envisaged during the regime of former Prime Minister Rajiv Gandhi in which 75:25 share was for SJVNL and Himachal Pradesh respectively. He said that Rajiv Gandhi asked him to enhance the States share but due to financial constraints it could not be done.
Virbhadra Singh said that BJP Government had allotted all hydroelectric projects to the private companies without having the share of Himachal Pradesh which had resulted into massive loss to the State. He said that he had asked the private companies to ensure 70 percent employment to the Himachali's at all levels.
Chief Minister said that previous Government had made much fan-fare that they were providing four CFL bulbs free of cost to the consumers by taking back four common bulbs from them. He said that HPSEBL has taken loan of Rs. 80 crore for launching this scheme and later on the same was charged from the consumers which were cheating with the people of State.
Virbhadra Singh said that maximum big projects had already been allotted for commissioning to the private sector and he was not against them but it would be ensured that they were constructed properly, timely without harming the environment and interests of local people. He said that Bhakra, Pong Dam and BSL projects were constructed on the rivers and land of State which had ousted many families and the State Government was making efforts for their rehabilitation. He said that the State Government would make all efforts to get its due share of BBMB project from the concerned the States.
MPP and Power Minister, Sujan Singh Pathania said that the State Government had allotted four projects to the HPSEBL and on their completion another project of 100 MW would be given to HPSEBL.
President HPSEBEU, Kuldeep Kharwarsa, General Secretary, Hira Lal Verma, former General Secretary, Chander Singh Mandyal, President Corporate Sector, Govind Chatranta also spoke on the occasion.
Chief Parliamentary Secretary, Inder Dutt Lakhanpal, Chairman HP State Agriculture Marketing Board, Subhash Manglet, former Deputy Mayor, Harish Janartha, MD HPSEBL, P.C. Negi, MD HPPCL, D.K. Sharma, MD HPPTCL, Sushil Chandera Shriwastwa and other senior officers and office bearers and members of HPSEBEU were present in large number on the occasion.