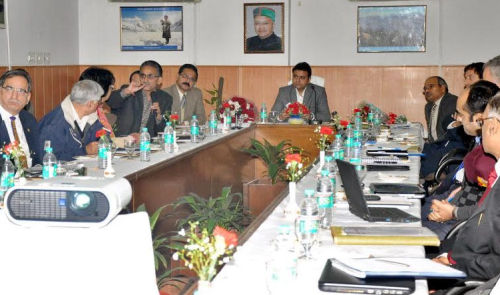 New Delhi: To explore the feasibility to develop alternate transport system in Himachal Pradesh, a high powered Meet was held at New Delhi under the Chairmanship of Urban Development Minister Sudhir Sharma, at New Delhi.
The main objective of this Meet was to reduce traffic congestion in main hill stations like Shimla and Dharamshala and also to promote tourism activities while conserving the eco system. Six reputed consultant companies participated in the meet and gave their valuable suggestions.
While addressing the participants on the occasion, Sudhir Sharma said that in the changed scenario, to provide efficient and people friendly transport system was the need of the hour and State Government was committed to explore such an integrated system of transportation in the State.
Sudhir Sharma said that a consultant company would be appointed within a month to study integrated transport system in the State and efforts would be made to provide such a system to the people in time bound manner.
He said that Himachal has vast religious tourism potential and it was important to go for rapid transit system adding that State Government has already taken up various initiatives in this direction.
Subhashish Panda, Secretary, Urban Development and Town & Country Planning said that consultant companies such as Hitachi India Pvt. Ltd., Mlaurent Defrance't Attache for Embassy France and India, Usha Breco Ltd., Ultra Fairwood, Urban Mass Transit Company Ltd. and IRCON etc. gave their presentations and expressed their willingness to work in this field in the State.
Sandeep Kumar, Director, Urban Development and Town & Country Planning said that Himachal would become the first hill state to provide such an ultra modern transport system in the State.
P.C. Dhiman, Principal Resident Commissioner, Anil Kapil Chief General Manager, H.P. Infrastructure Board and other senior Officers of the State Government were also present in the Meeting.