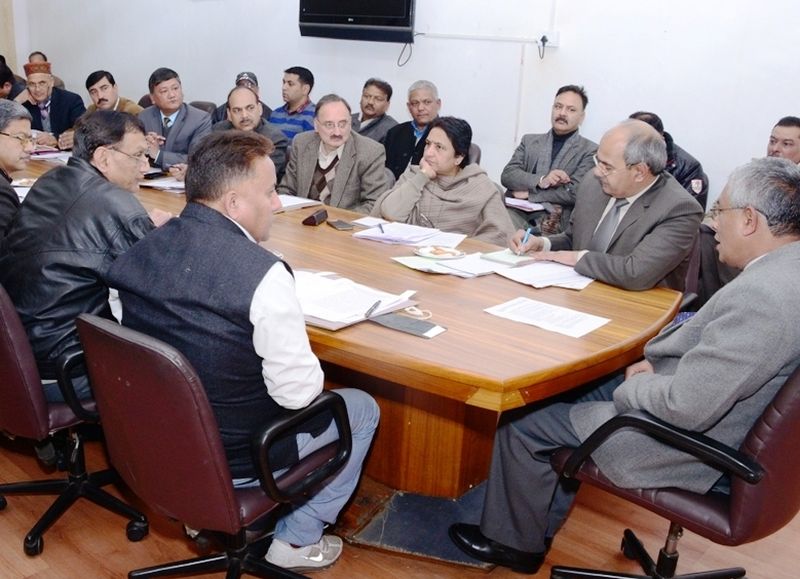 Shimla: Chief Secretary P. Mitra today take stock of the status of cases of jaundice in Shimla and Solan towns and measures being taken by the concerned departments to tackle the situation.
The Chief Secretary, in the high level meeting of various departments, said the concerned departments were taking necessary measures and efforts were on to ensure that untreated water was not consumed by the people. He said the downward trends in Jaundice cases has been reported in past few days in Shimla and Solan town.
Mitra said most of the cases being reported were of Hepatitis-'E' and government providing free testing facility in IGMC Shimla besides other all required treatment facilities.
The Chief Secretary said the Municipal Corporation Shimla had sealed 45 Bawris and hand pumps in Shimla town where the water was suspected to be infected, and has directed the authorities to install pubic taps at such places so that people could get drinking water.
He said the water of the Solan treatment plant was sent for testing and it has been found safe for drinking. However, the Health department has been asked for sampling on regular basis so that quality of the water could be maintained at any cost.
The Chief Secretary said that the work on the construction of new sludge drying beds in Malyana treatment plant was under process and directed the officials to complete the construction work within two months.
He said that approachable road towards the plant would be constructed soon for which even the private land owners had offered to provide land. He also directed to place order within three days for the purchase of high capacity generator for treatment in the plant.
He also directed for taking up preventive measures at Dhalli plant and repairing the damaged parts, at the earliest. He said that urban development department had already released Rs. 6 crore for the maintenance of treatment plants. He directed the higher authorities to check all Sewage Treatment Plants throughout the State.
The MC Shimla has served 1176 notices to the defaulters in 10 wards so far besides disconnecting 77 connections. Similarly, TCP and Rural Development Departments had also constituted teams to ensure proper sanitation. The TCP department served 52 notices to the defaulters including two hoteliers and had asked them to follow proper sanitation measures.
Additional Chief Secretaries P.C. Dhiman and Manisha Nanda, Secretary Panchayati Raj Onkar Sharma, Director Health Services Dr. D.S. Gurang, Deputy Commissioner Shimla Dinesh Malhotra, DC Solan Madan Chauhan, Director Urban Development Captain J.M. Pathania Commissioner Municipal Corporation, Shimla Pankaj Rai, Engineer-in-Chief, IPH R. K. Kanwar, Principal, IGMC Dr. S.S Kaushal, Sr. Medical Superintendent Dr. Ramesh Chand and other senior officers of the town and country planning, IPH, MC, Pollution Control Board were also present in the meeting.