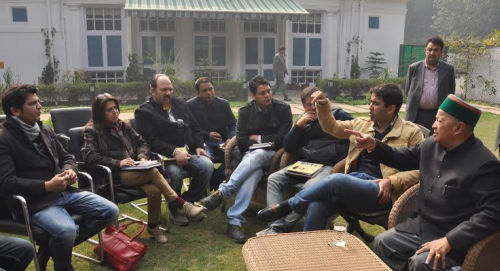 The Delhi based journalists from Himachal Pradesh have urged the Chief Minister Virbhadra Singh to provide accreditation facility to the Himachali journalists working at New Delhi.
They raised their demand during their meeting with Chief Minister, who was at Delhi to meet party high-command. Delhi based Himachali journalists believed that it'll help to develop better coordination between the State Government and journalists working at capital. They also requested him to setup a Press Room at Himachal Bhawan, New Delhi.
The Chief Minister assured to take necessary steps in this direction and said that Press Liaison Office, Himachal Bhawan would be further strengthened to facilitate the journalistic fraternity.
He stated that the State Govt emphasizing on the need to further strengthen the relations between government and media as in this era of communication revolution, the communication gap could be harmful for the larger interest of the society.
Chief Minister informed the journalists that the State government was working on an effective plan for strengthening information system and liaison with the social media. He invited the journalists to visit Himachal Pradesh to write stories on the developmental and untouched tourist destination of the State so that it could be highlighted across the world.
His wife Pratibha Singh, Mandi MP and son Vikramaditya Singh, State Youth Congress President were also present on the occasion.