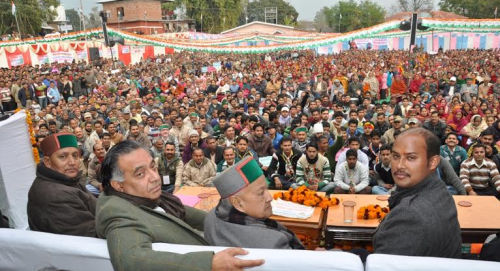 Panchrukhi: Ahead of the parliamentary election, Chief Minister Virbhadra Singh is on inauguration spree in the state. In his recent Kangra district tour, he announced to open Sub Tehsil at Panchrukhi in Jaisinghpur assembly constituency of Kangra district and also announced to open Primary Health Centre at Majhera and taking over the Swami Vivekanand Gramodaya College, Shivnagar under government control.
The Chief Minister announced to upgrade GHS Andreta and Salyana to Government Senior Secondary Schools alongwith starting Science and Commerce classes in Andreta School and Science classes in Salyana School. He also announced to upgrade Government Middle School Bakhana. He also assured to complete the work on Nadli road besides starting science classes in GSSS Majhera and Makol.
Earlier, Singh inaugurated the bridge over Sukkar khad on Jalog-Arath-Pat-Tatrala-Nahalana road constructed at a cost of Rs. 88 lakh under NABARD. He also inaugurated another bridge over Sukkar (Danel) khad on Sandrola-Karanghat road constructed at a cost of Rs. 1.51 crore.
Chief Minister inaugurated additional accommodation of GSSS Makol constructed at a cost of Rs. 91 lakh and Science Block of GSSS Majhera constructed at a cost of Rs. 79 lakh. He also inaugurated Lift Water Supply Scheme Shantivan which has been completed by spending an amount of Rs. 55.49 lakh. This scheme would benefit around 2450 people of Lugat, Parman, Khajurnu and Kangri villages.
While addressing the public meeting at Panchrukhi in district Kangra, CM reiterated the resolve of the Government for uniform and equitable development of the State with special emphasis on development of the far flung and remote areas.
G.S. Bali, Food and Civil Supplies Minister, who accompanied CM, said that the present Government had initiated various innovative schemes to benefit the common man. He said that Government was providing subsidy worth crores of rupees for subsidized ration to all ration card holders besides power subsidy. Bali announced to start a new bus service between Palampur and Chandigarh via Panchrukhi-Tinbar-Jaisinghpur.
Jagjivan Pal, Chief Parliamentary Secretary, Yadvinder Goma, Chander Kumar, Jagdish Sipahiya, Chairman, Kangra Central Cooperative Bank, Pawan Kajal and Kishori Lal, MLA's, Milkhi Ram Goma, Ex-MLA, Balbir Tegta, Chairman, H.P. Board of School Education, Dharamshala and other prominent persons were present on the occasion.