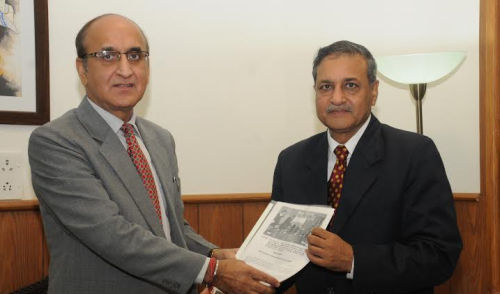 New Delhi: Himachal Pradesh Public Service Commission (HPPSC) Chairman K. S. Tomar called on Union Public Service Commission Chairman Prof. D.P. Agrawal in New Delhi today and discussed about functioning of State Public Service Commission.
K S Tomar apprised UPSC Chairman of various innovate steps taken by the Himachal Pradesh Public Service Commission. He informed UPSC Chairman that various steps like online applications, bar coded system, toll free service, e payment system have been introduced for facilitating the candidates of various entrance examinations.
Prof. D.P. Agrawal Chairman stressed for parity in pay, perks and allowances of all the Chairpersons of Public Service Commissions in India.
Tomar also offered to host the Annual Conference of Chairpersons of State Public Service Commissions at Shimla in near future. Prof. Agrawal accepted the proposal and told him that UPSC will communicate the decision about the conference to State Public Service Commissions.